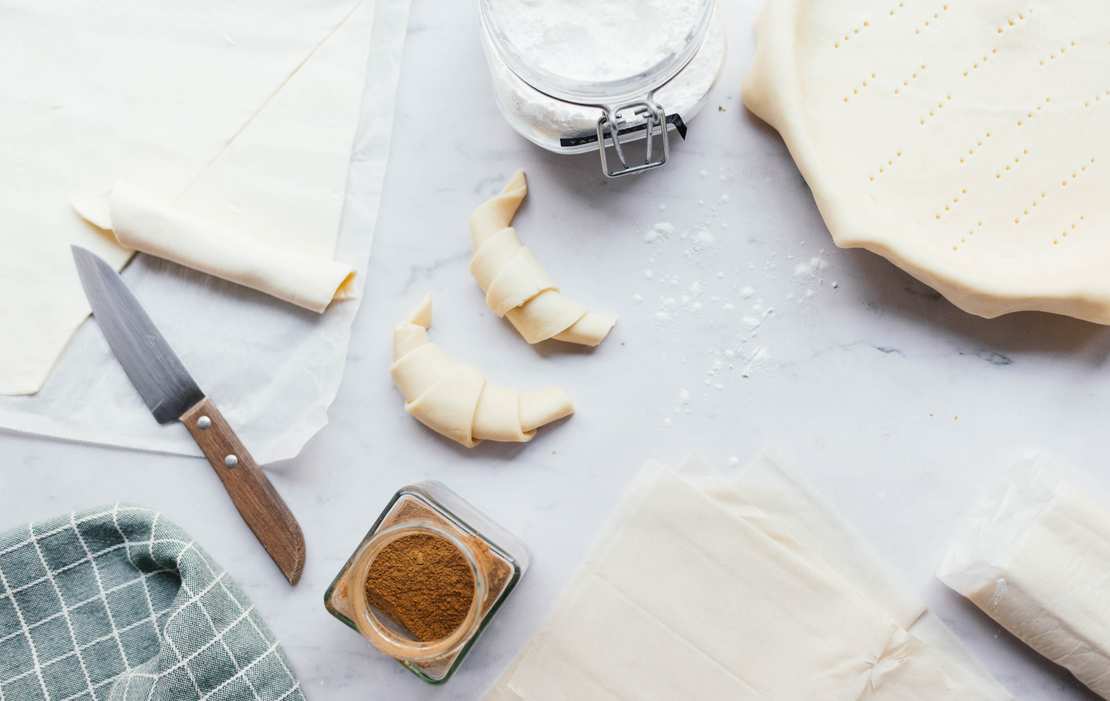 7 Vegan store-bought Pastries
On Zucker&Jagdwurst you will find so many recipes that it can sometimes be difficult to find exactly the right one for the moment. For that, we've categorized our recipes, but if you want to be more specific, you'll hopefully find the right dish in our recipe collections – for example if you're looking for soy-free desserts, hangover food, and what to eat when you have a cold. You can find all recipe collections here.
Most people are stunned when you tell them how many ready-made doughs in the supermarket are vegan. Ready-made dough without butter and eggs? Yes, it's possible and applies to most such doughs. Whether puff pastry, tarte flambée or bread roll dough are vegan and make our everyday life easier. Sure, preparing dough is also a nice project and rolling out and shaping it has something almost meditative – but it takes time. Especially when we're in a hurry or want to prepare large servings, ready-made doughs are often a great shortcut. So in this post, we'll introduce you to seven vegan ready-made doughs, explain what distinguishes them, and give you a few recipe ideas.
We especially love the Tante Fanny doughs! Almost all of Tante Fanny's fresh doughs are vegan, with only a few exceptions. You'll also find the German "V-Label" from the German vegan society on the packaging, which makes shopping even easier. By the way, many fresh doughs are rolled in parchment paper, so you save another step. Only the filo & yufka dough comes with thin papers unsuitable for baking. And since we often get asked: Yes, you can freeze many fresh doughs. It works wonderfully with puff pastry, shortcrust pastry, quiche and tart pastry and tarte flambée bases. Unfortunately, all yeast doughs (e.g. the pizza and tart flambée dough) and strudel doughs (e.g. filo & yufka dough) are not suitable for freezing. It is essential to freeze the doughs before the expiration date. Use the frozen dough within six months. To defrost, leave the dough in the refrigerator overnight (about 10 hours) – at room temperature, the dough will be ready to use after about 2–3 hours. On the website of Tante Fanny, you can find a great overview of all vegan fresh doughs and also a retailer search, so you quickly know where to find the doughs.
2. Pizza Dough
Who doesn't love fresh, fragrant pizza from the oven? Probably no one. And who ever had a pizza with a horrible base? Probably everyone. Preparing the perfect pizza dough takes work. It should be soft but crispy, thin but not too thin. And then there are a few special rules to follow when preparing pizza dough: You wait to add the salt until the end, and it's best to bake it on a hot stone. But that doesn't mean you can't make great homemade pizza within your own four walls. It just takes a little effort and love. And if you don't want to, there is always ready-made dough in the supermarket.
Recipes with pizza dough:
Vegan Hot Dog Pizza
Vegan Spring Greens Pesto Pizza
Vegan Flatbread Mini Pizza with Figs and Balsamic Onions
Vegan Pizza Rolls
Homemade Vegan Frozen Pizza Bianca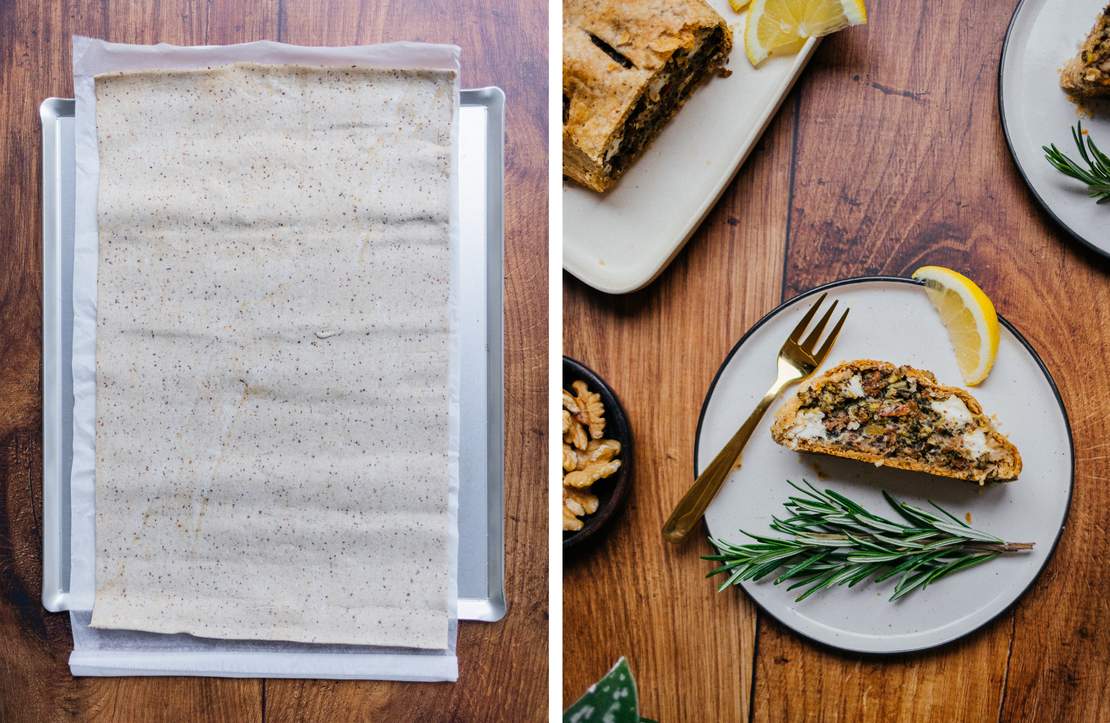 4. Fresh Puff Pastry
Anyone who has tried making puff pastry knows it can take a whole day to make – constant cooling, folding and rolling. In the end, you'll surely be proud of your dough but probably also quite exhausted. Puff pastry impresses with its incredibly crispy layers, which taste especially good coming fresh out of the oven. And of course, if you eat puff pastry once, you'll still find crumbs on the table, under the sofa or behind the bed even days later. As wonderfully crispy as the dough is, it simply ends up everywhere.
Puff pastry gets its many layers by incorporating layers of fat and constantly rolling it out and slapping it together. So it's definitely a project that takes a lot of time. However, with puff pastry, you can prepare many snacks, bake fruit cakes and prepare small croissants for the next breakfast.
Recipes with Puff Pastry:
Vegan "Schillerlocken" (Cream Horns)
Quick Vegan Cherry Danishes
Vegan Puff Pastry Strudel with Mince-Vegetable Filling
Vegan Puff Pastry Wreath Filled with Potato Dumplings, Red Cabbage and Plant-Based Sausages
Carrot Tart with Puff Pastry and Vegan Feta Cheese
Vegan Jackfruit Pot Pie
Vegan Christmas Palmiers
Puff pastry crumble cakes
5. Tarte Flambée Dough
Welcome to the beautiful Alsace, the home of the tarte flambée! The colorful leaves of the trees in front of you, a nice glass of Federweisser in your hand and autumn on your mind .. But stop! Preparing Flammkuchen only during autumn time is a big mistake – and we are guilty of it, too.Depending on the season, tarte flambée can be topped with loads of different ingredients, whether it's apple and cinnamon in winter, asparagus and fresh herbs in spring, or eggplant, zucchini and tomatoes in summer. Let your creativity run free and use the tarte flambée dough to use up all the leftover vegetables you still have in the fridge.
Recipes with Tarte Flambée Dough:
Vegan Alsatian Tarte Flambée
Tarte flambée with asparagus
Vegan Tarte Flambées 101 – Our 4 Favorite Recipes
6. Strudel Dough
Strudel dough is an elastic and thin dough that can be pulled apart quite wonderfully. This elasticity comes from the gluten it contains, produced by mixing water and flour. If you prepare strudel dough yourself, the ratio of flour and water is crucial. When the dough is too dry, it tears, and if it's too moist, it sticks. Enough rest time is also crucial so that the gluten can develop. In your strudel dough, you can roll sweet and savory fillings and cut small patterns into the dough at the end.
Recipes with Strudel Dough:
Vegan Puff Pastry Strudel with Mince-Vegetable Filling
Vegan Apple Strudel
Vegan Curd Strudel with Cherries
7. Filo & Yufka Dough
Filo dough is a very, very thin dough, which does not consist of "one dough" but of several rolled or folded sheets. You may know it mainly from Arabic and Turkish cuisine, where it's used for baklava, börek and the like. But it's also found in Greek cuisine, e.g. for spanakopita. In Greece, it is called filo dough, in Turkey, it is called yufka. However, both names on the packaging mean the same thing and often differ only in thickness. The somewhat thicker yufka dough is used, among other things, for gözleme and börek, while the particularly thin variant is used, for example, for baklava. The dough consists only of flour, oil, salt and water, but it must be rolled out super thin, which is quite time-consuming if you prepare the dough yourself.
Filo dough should generally be processed quickly because it starts to dry and crumble fast. Therefore, it's best to take it out of the package right before you use it. You can place the sheets under a clean, damp tea towel to be safe. To shape it, spray it with water or coat it with oil (or melted vegan butter) beforehand.
Recipes with Filo & Yufka Dough:
5-Ingredient Vegan Phyllo Pie
Vegan Börek Roll with Spinach-Artichoke-Creme
Vegan cigarette börek with spinach