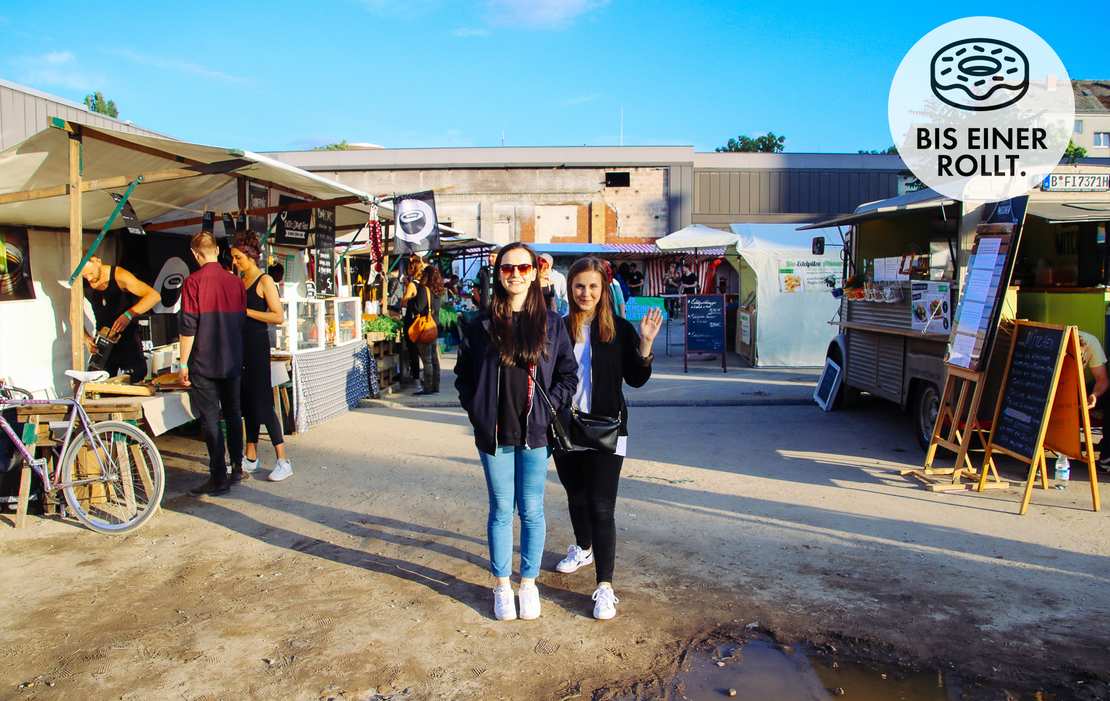 Green Market Berlin at Kindl Brauerei
In our series "Food Feast" we regularly visit places, streets or food events to try and eat as much vegan food as possible there - until we roll home. Amongst others, we've already been to the Don Xuan Center or Streetfood Thursday at Markthalle 9. You can read all about our culinary trips here.
Welcome to our second episode of "Foodfeast", today at the Green Market Berlin. Our first episode of "Foodfeast" is already two weeks old and we are hungry for another episode. Well, actually not. Compared with our first epidode we are extremely bad prepared. In the morning we made some new recipes for you, so we cooked the whole day and well … also ate it! We had to try the Butter Chicken and the pulled pork Burger, and couldn't resist. So well .. we are not hungry at all but let's have a "Foodfeast"! Maybe all the food we already collected in our tummy has widen it, so we have more space for more yummy stuff. Let's see!
So today we visit The Green Market Berlin at the Kindl Brauerei. It's their third location after Arena Berlin and Neue Heimat. The seperation of food area, non-food-area and the food court between derelict houses worked not that well but we don't mind. More important: where is the food?
Green Market Berlin
Alte Kindl Brauerei, Neukölln
Winki Winki at Instagram. We do that extremely well. We are not hungry, but in the mood for food. Isa pays the entrance costs of 2€ for each person. Maybe it's her kindness, or maybe she only wants the biggest donut chunk for herself. We don't know yet..
We directly meet Sophie and Kathi, our two local experts. They speak about stomachache, yummy food and all the things they already tried. Sounds good! We instantly want to start! Now the shocking message: no donuts for us. sold out. finada. Everyone's quite. Crickets are chirping, nobodys speaking. The redemption: supplies are coming. Puuuuuuh!
We are spurred and buy a tarte flambée at Nordic Balance. More Garlic? No plans for today, sure! The dough is extremely thin and crispy – almost perfect. The pierogies are not to fat, not to dry and the filling is yummy. Only some sour cream is missing.
Julia hangs out infront of the pierogies. So cheeky!
So the possibilities today are really manageable. Maybe we are too late? But it's sunday 5pm, so it's time for dinner, right? Some stands are sold out and cleaning their tables. Where is Kontor? Already closed? Mäp!
Our tears disappeared when we found this avocado sandwich at Two Planets. 5,50 € is not the cheapest price around, but it tastes really amazing andis our today´s favorite. Crispy bread, fresh ingredients, a lot of stuff topped and the avocado is just on point. So good!
So today we want to try some new things. We know a lot of the food around here and want to find some new burgers or sweets or whatever looks like real good food. But there is BRAMMIBAL and we can't regret. Only one exception, ok? And we never tried this peach-rosemary-donut before, ha! So in a way it is something new. It tastes really good, as always, but we had to discuss what the donut is topped with. Lookes like ginger but ha! It's only peach.
The excellent price/performance ratio challenge is going to the Gyros-Pita from Planet Veganus. By the way: they opened their shop at Bergmannkiez again. Talking with the guy behind the counter is a bit weired, but he promised a free gyros the next time, if he won't recognize us. Haha.
Julia discovered Tacos with pulled pork and is instantly in love with them. Where can we buy them? Also empty? oh no no no!! So we decided for the Taco with black beans instead. The Taco looks a bit weird but we don't care about that. A bit sad that salt is missing and meat or rice.
A good idea for an instagram-account: "Cute Guys with donuts in front of their faces." We definitely want that and found the perfect guy for that. Say Hello to Maximilian!
So our group is growing, cause Lena has joined us and found this yellow crêpe from TocToc. It's an coconut-milk-crêpe made of rice-flour and curcuma. Tastes ok! So we are hanging around, watching other peoples food and discovere a really big, big crêpe thats giant. Why haven't we seen them? Where are they? So our boy Maximilian is doing a second round to find these giant crêpes. AND he found them! Filled with potatoes and a mango sauce, it's quite yummy and enough for everyone in our small foodie-group. The mango sauce tastes a bit like mango ice-cream. Yum Yum!
Maximilian shows Marie and Julia some funny, piggy gifs, so they forget their big tummies for a moment. Everyones giggling.
But Julia needs a cup of coffe to get over this food-madness.. König Koffein knows how to help and gives her, what she needs: good coffee.
The others are not impressed at all and won´t stop eating. Next station: raw ice cream from Superfrans! So raw, we want to bite it, and feels like eating something healthy. uh yay.
The result: we were not hungry at the beginnig, but managed to eat some crepes, gyros, ice cream, donuts and tarte flambée. The location is not the best we ever visited for a food market but it was a nice trip and we found yummy food again. Good job!
Have a look for the last episode "Foodfeast" at Markthalle Neun.