Vegan Spice Cake with Cream Cheese Frosting
When I think of spice cake, I think of a dry piece of cake that is overspiced and tastes slightly artificial. Doesn't that sound fantastic? But we'll put my old memories of spice cake aside today because we took on this somewhat oldschool cake. What we came up with in the end is a moist cake with a delicious vegan cream cheese frosting. It tastes wonderfully fresh and autumnal at the same time, but above all, it's far from my earlier memories.
A spice cake lives on its spices of course! We decided upon ground clove, ground allspice, ginger powder, nutmeg, cinnamon, and salt, but you can adjust the spice mix to your own taste. And if the list of spices reminds you of gingerbread, you are completely correct. Spice cake is originally derived from gingerbread. The invention of baking powder, which was tested in the preparation of gingerbread, gave birth not only to spice cake but also to honey cake. (Source) So basically, a spice cake is a big, fluffy gingerbread cake – and that does sound fantastic, right?
But let's get back to the recipe! We recommend to prepare the cake a day ahead as this way, the vegan cream cheese frosting has enough time to set, and the cake gains some more moisture. Saying this, you can easily eat it within 2-3 days. If you don't like cream cheese frosting, you could also top it with a basic icing or chocolate.

Vegan Spice Cake with Cream Cheese Frosting
1 baking dish (25x30cm / 10x12 inches)
30 minutes (+ 30 minutes baking time + 60 minutes cooling time)
Ingredients
For the batter:
200 g (1.66 cups) wholemeal flour
125 g (0.66 cup) sugar
50 g (0.33 cup) cornstarch
8 g (1.5 tsp) baking powder
1 tsp ground clove
1 tsp ground allspice
2 tsp ginger powder
1 tsp ground nutmeg
15 g (2 tbsp) ground cinnamon
1 pinch of salt
200 g (7 oz) vegan butter
250 g (2 cups) applesauce
50 ml (0.25 cup) plant-based milk
For the topping:
450 g (16 oz) plant-based cream cheese
100 g (0.75 cup) powdered sugar
1 lemon
Also:
vegan butter for greasing
Instructions
Preheat the oven to 180°C/355°F (circulating air) and grease a square baking pan (25x30cm/10x12inches) with vegan butter.

In a large bowl, mix whole wheat flour, sugar, cornstarch, baking powder, ground cloves, ground allspice, ginger powder, ground nutmeg, cinnamon, and a pinch of salt. Add vegan butter, applesauce, and plant-based milk and knead with a hand mixer or your hands, unti a batter forms.

Transfer the batter to the prepared baking dish and smooth it out. Bake at 180°C/355°F for approx. 30 minutes. Cover with aluminum foil if necessary, if the top of the cake gets too dark. Afterwards, remove it from the oven and let the cake cool down.

In the meantime, add plant-based cream cheese, powdered sugar, and lemon juice to a bowl and whip the frosting until it's creamy. Refrigerate the frosting until needed.

Once the cake is cooled, spread the plant-based cream cheese frosting on top and refrigerate the cake for approx. 2-3 hours. Only right before serving, remove the baking dish and cut the cake into pieces.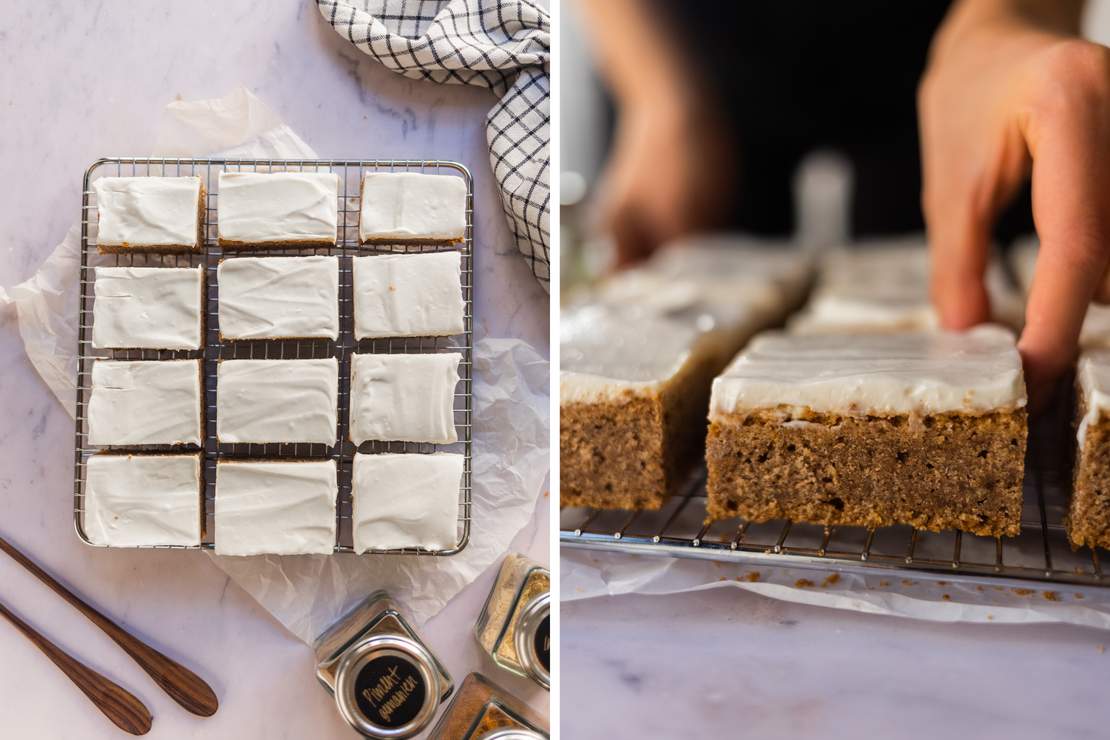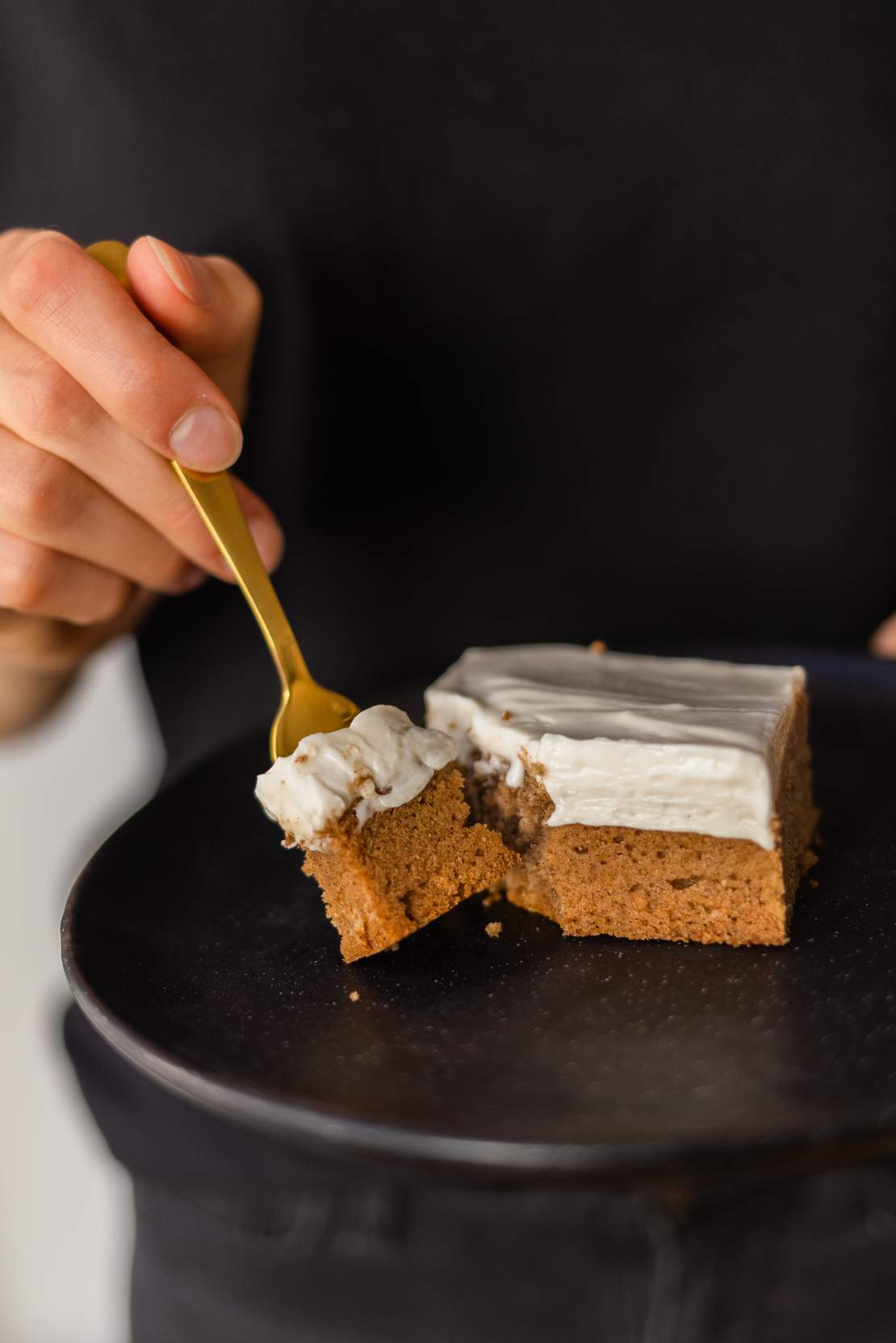 More Vegan Cakes & Cookies