Today's cake is another classic of our childhood: raspberry cake, or as we like to call it in German "Himbeerschnitte". There are various versions of this cake throughout Germany. Our recipe is made with a fluffy sponge cake base, a layer of chilled vegan yogurt and cream, and fresh raspberries on top. Other versions of this recipe add a butter biscuit on top, but since there are vegan cookies, feel free to go with this option.
We also tried to make an "advanced" vegan recipe of the classic raspberry cake and baked a layer cake version. However, if you prefer the simple cake, you can easily bake this one, too! Here are some baking tips for the cake:
Simple or layered: To create a layer cake version of the raspberry cake, you need to halve the sponge cake and add two layers of the yogurt mixture. If you want to keep it simple, then there's no need to halve the sponge cake. We'd even recommend to bake it in a baking dish then instead of spreading it on a baking sheet. This way, your sponge cake won't be too thin. For the cream layer, you then only need one and can use the entire yogurt mixture right away. The rest of the recipe remains the same.
Use a proper baking dish: It's important to use a baking dish (or a casserole dish) with higher sides in order to layer the cake. Since the cream mixture will firm up in the fridge, it would otherwise just run down the sides of your sponge cake. Depending on the size of the baking dish, you may need to trim your sponge cake to make it fit, or bake the cake directly in the baking dish. Line the baking dish with parchment paper that overlap on the sides. This makes it easier to lift out the cake afterwards.
Oh no, soaked sponge cake?: When we baked this cake the first time, the sponge cake became quite soaky. We think, it was due to the cream layer on top and the weight of the other layers. If this happens: no worries, the cake will still taste good! But to avoid it, make sure to let the sponge cake cool down completely - this way, it gets quite a dry surface that can't get too soaky. Plus, for safety, sprinkle some ground nuts or cream stiffener on top of each sponge cake before adding the jam or cream mixture. It will absorb some liquid, and the sponge cake will stay fluffy.
Vegan Raspberry Cake
12 pieces (8 x 10 in)
40 minutes (+ 20 min.baking, + 2 hrs. cooling)
Ingredients
1 vegan sponge cake (find the recipe below)
For the cream:
200 ml (1 cup) plant-based heavy cream
1 tsp cream stiffener
500 g (2 cups) plant-based yogurt
1 vanilla bean
1 lemon (zest)
50 g (0.5 cup) confectioner's sugar
30 g (2 tbsp) agar agar (25 % agar agar)
100 ml (0.5 cup) oat milk
Also:
500 g (18 oz) fresh raspberries
100 g (3.5 oz) raspberry jam
50 g (2 oz) ground almonds
clear fruit tart glaze
confectioner's sugar for dusting
Instructions
Prepare vegan sponge cake according to the recipe below. Only this time, don't fill it into a baking pan, but spread it onto a parchment lined baking sheet (8 x 10 in). This also means that the thinner batter will only need approx. 20 minutes until it's done, baked at 180°C/355°F.

In the meantime, dust a clean kitchen towel with confectioner's sugar, then invert the baked sponge cake on top and remove the parchment paper. If you want only one layer of dough, leave it as it is. If you want the double layer of raspberry cake, halve the dough. It should fit a higher baking pan to make assembling easier though. Let the cake base cool down completely.

For the cream, whip the plant-based cream with cream stiffener until stiff and chill in the refrigerator. Mix the vegan yogurt, the pulp of the vanilla pod, lemon zest, and powdered sugar well. In a saucepan, mix oat milk and agartine with the help of a whisk and bring to a boil. The mixture should boil vigorously for at least 2 minutes. Stir continuously with the whisk. Remove the pot from the heat and stir in the plant-based yogurt mixture spoonful with the whisk. When the mass has cooled down, the whipped cream can be carefully folded in.

This is how to assemble the double layer cake: Transfer one halved sponge cake to a higher baking pan and sprinkle a thin layer of ground almonds on top. This should make sure that the cake won't soak. Alternatively, you can also use cream stiffener for this. Spread some raspberry jam on top, if you want a smooth jam layer. As seen in our pictures, you can also first add half of the yogurt cream layer and then swirl the raspberry jam on top.

Now add the second sponge cake on top, sprinkle again with remaining ground almonds and spread the remaining yogurt cream on top. Arrange the fresh raspberries on top of the cream. Prepare fruit tart glaze according to package instructions and carefully pour it on top of the raspberries.

Before slicing, let the cake rest in the fridge for at least 2 hours.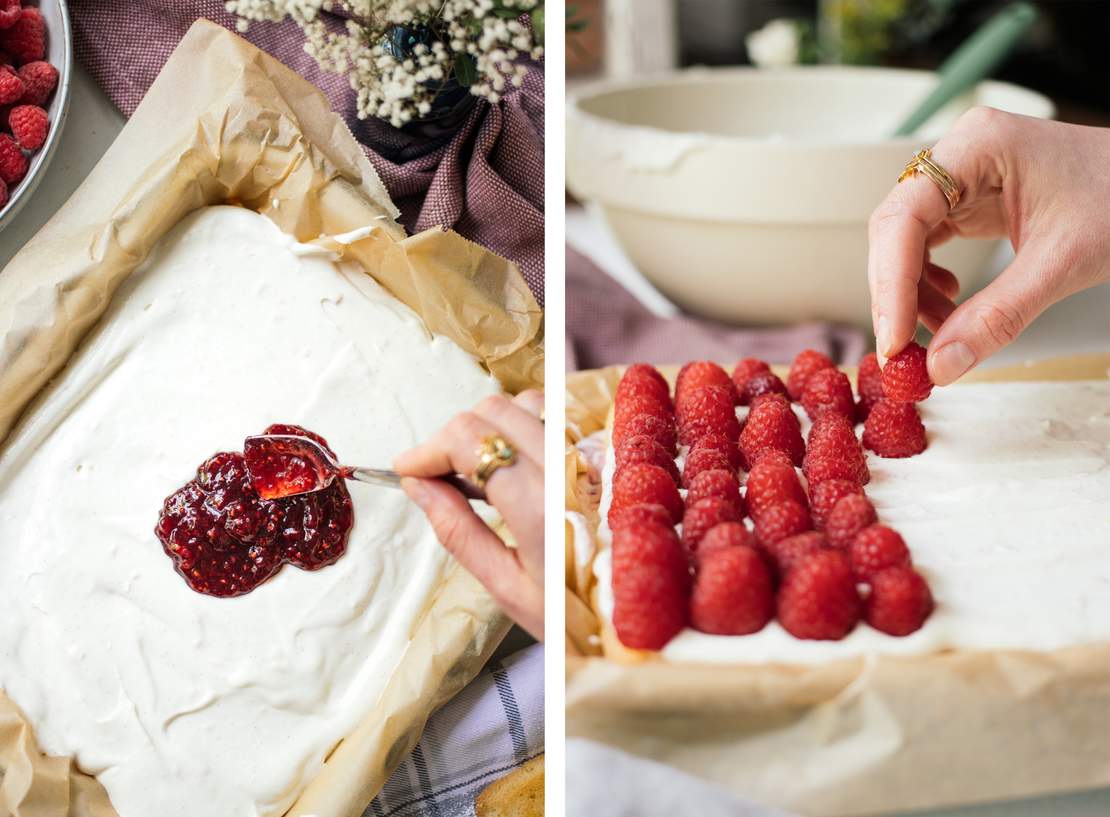 Vegan Sponge Cake
Ingredients
225 g (2 cups) flour

150 g (0.7 cups) sugar

250 ml (1 cup) sparkling water

50 ml (0.25 cup) plant-based oil

1 tsp baking powder

8 g (0.28 oz) vanilla sugar
You need a 9 inch/22 cm circular cake pan for this recipe.
Instructions
Preheat your oven to 180°C/350°F.
Mix in a bowl: flour, sugar, vanilla sugar, baking powder. Whisk until combined.
Add the oil and the sparkling water. Mix the dough for another time.
Grease a cake pan and add the batter. Bake for 30 minutes. Test with a wooden stick if your sponge cake is done. Extend or reduce the baking time until cake is golden-brown.
More Vegan Recipes with Berries