We have a soft spot for tacos and love to experiment with them. Besides classics such as fish tacos (vegan, of course!), tostadas or taquitos, we also serve Korean tacos, ramen tacos, chanterelles tacos or even chocolate tacos. You can find all our taco recipes here.
Ramen burgers are old news. Of course we could have easily put spaghetti in a taco… or mac'n'cheese… well, while reading this right now, I might consider doing this later. BUT for this Taco Tuesday, we decided to do something different. Do you remember the ramen burger, that ensured furore in the last years? You would have to stand in line for hours… but with our ramen taco you can skip that part easily! Get creative and fill your ramen taco with whatever you like. And if you do have a taco form at home, definitely use it to keep your taco in shape! We didn't have one, but succeeded anyhow, so this can be also done without, promised!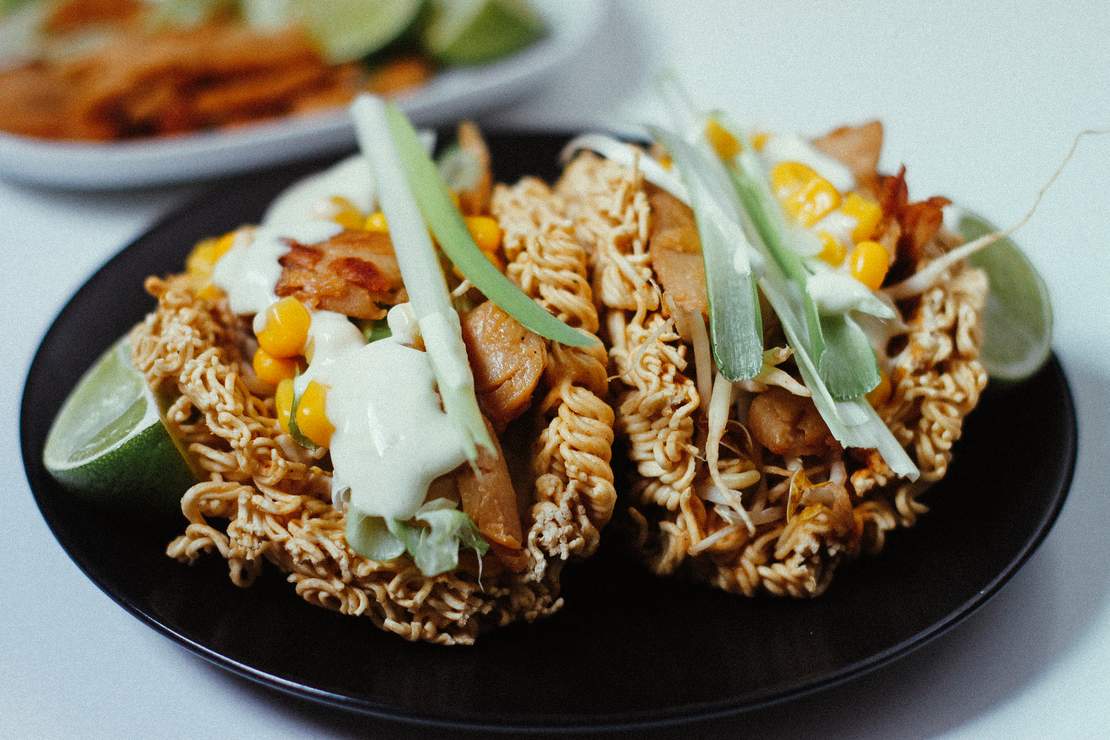 Vegan Ramen Taco
Ingredients
6 dried ramen noodle plates
FOR RAMEN SEASONING
4 tbsp ginger powder
4 tbsp garlic powder
2 tbsp onion powder
2 tbsp paprika powder
FOR MARINADE
4 tbsp egg replacement (e.g. No Egg)
Hot water
FOR THE FILLING
6 green onions
vegan "chicken-like meat'
corn
bamboo shoots
FOR THE DIPS
2 tbsp wasabi
1 tbsp teriyaki sauce
200 g (7 oz) vegan mayo
1 lime
Instructions
Let's start by preparing your marinade. Mix together all ingredients for the ramen seasoning. In a bowl, whisk egg replacement (we used NoEgg) and stir in half of your ramen reasoning.
Take out a large pot or a large pan and mix the other half of your ramon seasoning with hot water. Bring to boil and keep simmering. Add dry ramen noodle plates one at a time and keep simmering in the ramen broth for 1 minute each side. Really don't let it lay in the hot water for too long, because if they get to soft, you won't be able to turn them into tacos later.
Let all plates cool down for 2-3 minutes. In the meantime, grab a bowl, glass or a cookie cutter, that we can use for cutting our tacos. It should be big enough to fit your whole ramen plate and circular. With whatever you have - e.g. a bowl you can now cut out a circle from your ramen noodle plate. They should be firm with a soft core.
For forming those plates into a taco you can either use a taco former or you can slighty oil a casserole dish and lay those tacos in form next to each other. We'd recommend to also slightly oil the touching parts, so your tacos won't stick together in the end. Afterwards let them cook in the oven at 180°C/350°F. Your ramen tacos should be a bit crispy and roasted.
In the meantime, prepare the filling: Cut green onions lenghtwise, drain corn and rinse with water. Roast vegan meat in a pan with some oil.
For your dips, take half of the mayo and stir in wasabi. Check if it's spicy enough or add some more wasabi. Take the other half of the mayo and stir in teriyaki sauce. Squeeze out a lime and add half of it to each wasabi mayo and teriyaki mayo. Stir well.
If your tacos are ready, take them out of the oven and put in filling when they are still warm. Spread some teriyaki mayo on it first, then add vegan chicken and veggies and finish up with some wasabi mayo.
More Taco Tuesday - Vegan Taco Recipes