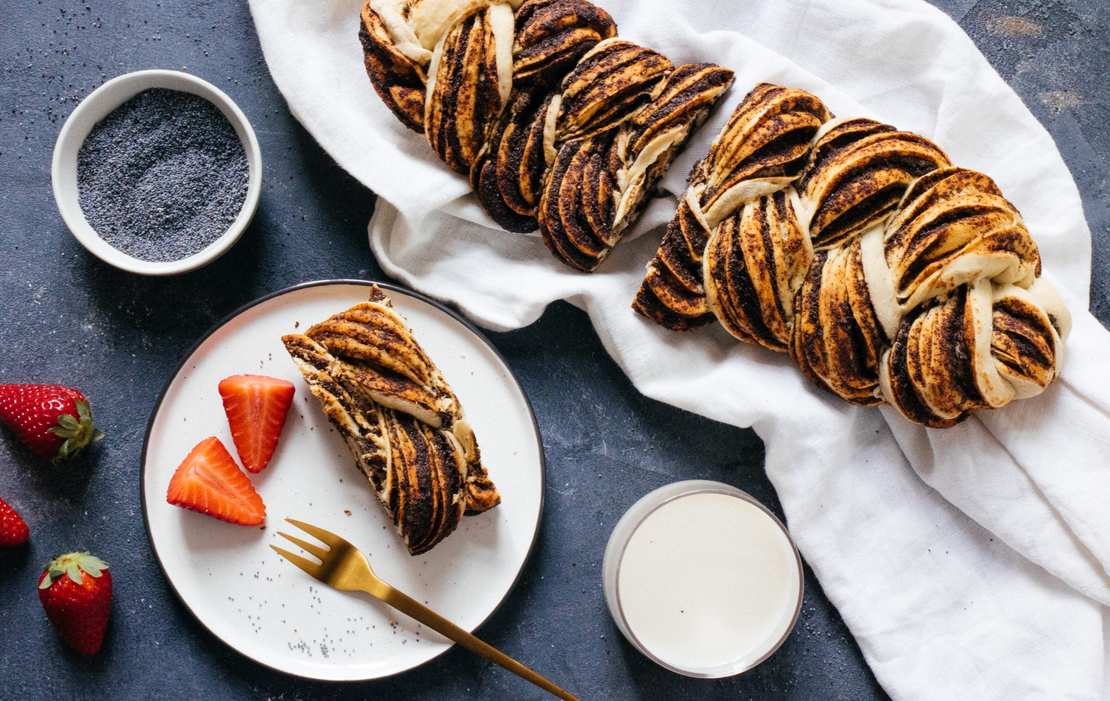 Vegan Poppy Seed Braided Loaves
We bet you know this situation: The annual Easter brunch with the family is approaching and after a few minutes someone says "..and what are you eating?" If you want to calm the situation, just bring your own stuff with you and bake something for the whole family.
These pretty, vegan poppy seed braised loaves are perfect for a big group of people! Prepare it the day before and carry it very easily in a bag. Our recipe serves for two whole yeast loaves. That's enough for a family of 8-15 people. If you're only 4-6 people, halve the amounts and bake two smaller yeast loaves.
Vegan Poppy Seed Braided Loaf
2 big yeast loafs
40 minutes (+180 minutes waiting)
Ingredients
braided yeast dough
1 cube (42 g) fresh yeast
20 g (0.125 cups) brown sugar
375 ml (1.5 cups) warm water
40 g (1.4 oz) coconut oil
600 g (5 cups) flour
1 tsp salt
poppy seed filling
250 g (8.8 oz) poppy seed filling for baking

50 - 100 ml (0.2-0.5 cups) agave syrup

water

50 ml (0.2 cups) plant-based milk

2 tbsp agave syrup
Instructions
yeast dough
Dissolve the fresh yeast in warm water with brown sugar in a large mixing bowl. Wait for ten minutes. The yeast should swell and rise to the water surface.
Heat coconut oil, wait until lukewarm and add it to the bowl.
Gradually add 400 g (14 oz) flour, mix well and add salt. The dough should be very sticky.
Cover bowl with a damp kitchen towel and let rise for at least one hour. After this time you should see small bubbles on the surface, and your dough should be doubled in size.
Now add the rest of the flour until you can form a big ball out of dough. Knead the dough for some more minutes and let rise for 30 minutes on a warm and dry place. Divide the dough in three portions.
poppy seed filling
Mix the poppy seeds (in Germany you get a premade poppy seed filling: it's a creamy mixture ready for baking and already mixed with sugar) with agave syrup and stir until creamy with water.
Roll out the first dough on a floured surface, if necessary, knead in more flour so that the dough does not stick to the surface. Spread one-third of the filling over the surface of the dough.
Let's begin at one of the long edges of the rectangle and tightly roll up the dough. Using a sharp knife, slice the roll lengthwise. Slightly rotate the halves outwards so the layers are facing upwards. Continue with the two left portions. In the end, you should have 3 strips that you divide into 6 halved strips.
Take 3 of the strips and fold one end over the filling and begin braiding by folding the strips of dough over each other. Pinch together the end of the loaf. Now continue with the last three strips and braid a second loaf. In the end, you get two braided yeast loaves.
Let the loaves rise for about 30 minutes before baking. Mix plant-based milk and agave syrup in a small pot and brush. Preheat oven to 180°C/350°F and bake for 50-60 minutes.
More Vegan Cakes & Cookies