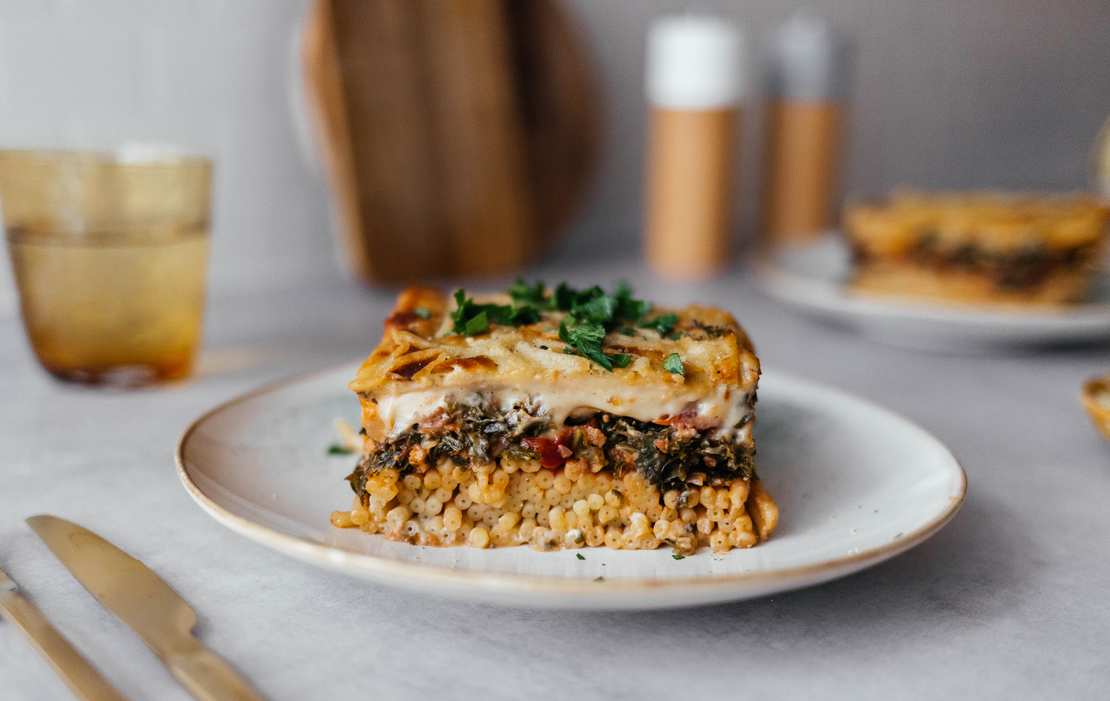 Vegan Pastitsio with Kale (Greek Baked Pasta with Mince)
You don't like kale? Then you've come to the right place – which might sound weird since this is a recipe with kale. But I'll explain.
Some love kale and others hate it. I rather belong to the second category and couldn't make friends with the green leaves at all. But it was time for a new attempt, and is there a better way to make unloved vegetables delicious than to make a pasta dish out of it? And not just any, but preferably baked pasta! The Greek baked pasta dish called "pastitsio" served as our inspiration. It traditionally consists of macaroni, minced meat, and a thick layer of béchamel sauce, but we gave it a wintry twist and swapped the ground beef for a lovely kale and "minced meat" tomato sauce. The whole thing is topped with plant-based cheese.
Unlike a lasagna, the pasta is pre-cooked because we're not using lasagna sheets but macaroni. However, you should ensure that they are not already al dente and drain them approx. 2-3 minutes before the given instruction time – otherwise, they will get too soft in the oven. On top of the pasta, we place our wonderful plant-based kale and "minced meat" tomato sauce. For this, we sauté onions, garlic, vegan minced meat, and of course, our kale and deglaze everything with vegetable broth, red wine, and canned tomatoes. The mix is spiced with a bit of cinnamon, a classic in Greek cuisine. It tastes excellent in combination with red wine. Ensure you thoroughly remove the stems from the kale and chop the leaves finely. Alternatively, you can use unseasoned kale from a jar.
It gets trickier when preparing the vegan béchamel sauce as it traditionally contains eggs in this recipe, which ensures that the sauce gets firm during baking. We replace it with a bit of soy flour which is generally a great way to replace eggs. Now all that's missing is the vegan cheese on top before it goes off into the oven. Well, happy cooking!
Vegan Pastitsio with Kale (Greek Baked Pasta with Mince)
4 servings
45 minutes (+ 25 minutes baking time)
Ingredients
For the pasta layer:
300 g (10.5 oz) long macaroni
40 g (1.33 oz) plant-based butter
50 g (1.75 oz) vegan shredded cheese
salt
pepper
For the kale and "minced meat" tomato sauce:
approx. 600 g (1.33 lbs) fresh kale (which makes approx. 300 g/10.5 oz kale without stems)
1 large onion
2 garlic cloves
250 g (9 oz) plant-based raw mince
150 ml (0.66 cup) vegetable broth
200 ml (0.75 cup) red wine
800 g (28 oz) canned chopped tomatoes
1 tsp ground cinnamon
salt
pepper
For the béchamel sauce:
60 g (2 oz) vegan butter
6 tbsp flour
4 tbsp soy flour
6 tbsp nutritional yeast
600 ml (2.5 cups) plant-based milk
0.25 tsp ground nutmeg
salt
pepper
Also:
75 g (2.66 oz) vegan shredded cheese
Instructions
Bring a pot of salted water to a boil and cook pasta approx. 2-3 minutes shorter than the time written in the instructions to ensure that it's not al dente yet. Mix the cooked pasta with vegan butter and vegan shredded cheese and season with salt and pepper to taste. Arrange the pasta in a greased baking dish (12 x 8 inches) neatly, lengthwise, next to each other.

While the pasta cooks, wash and drain the kale well. Remove the stems and finely chop the leaves. Finely dice the onion and mince garlic.

Heat some olive oil in a large saucepan and sauté both for about 4-5 minutes until the onion turns translucent. Add the vegan mince and fry for another 5 minutes. Add the kale and sauté for 3-4 minutes. Deglaze with vegetable broth, red wine, and canned tomatoes, and let the sauce simmer for approx. 15 minutes. Season with cinnamon, salt, and pepper to taste.

Preheat the oven to 180°C/355°F (convection heat). In the meantime, prepare the vegan béchamel sauce. For this, melt vegan butter in a saucepan, add flour, soy flour, nutritional yeast, salt, and pepper and deglaze the mix directly with the plant-based milk. Bring the sauce to a boil while stirring constantly. Once the sauce thickens, remove it from the heat and set aside.

Pour the kale tomato sauce on top of the pasta into the baking dish and spread it well. Then spread the vegan béchamel sauce on top and cover it with vegan shredded cheese. Bake for approx. 25 minutes at 180°C/355°F, until the vegan cheese layer is golden brown. Be sure to let the baked pasta sit for a few minutes before cutting and serving it, so the layers don't fall apart immediately.