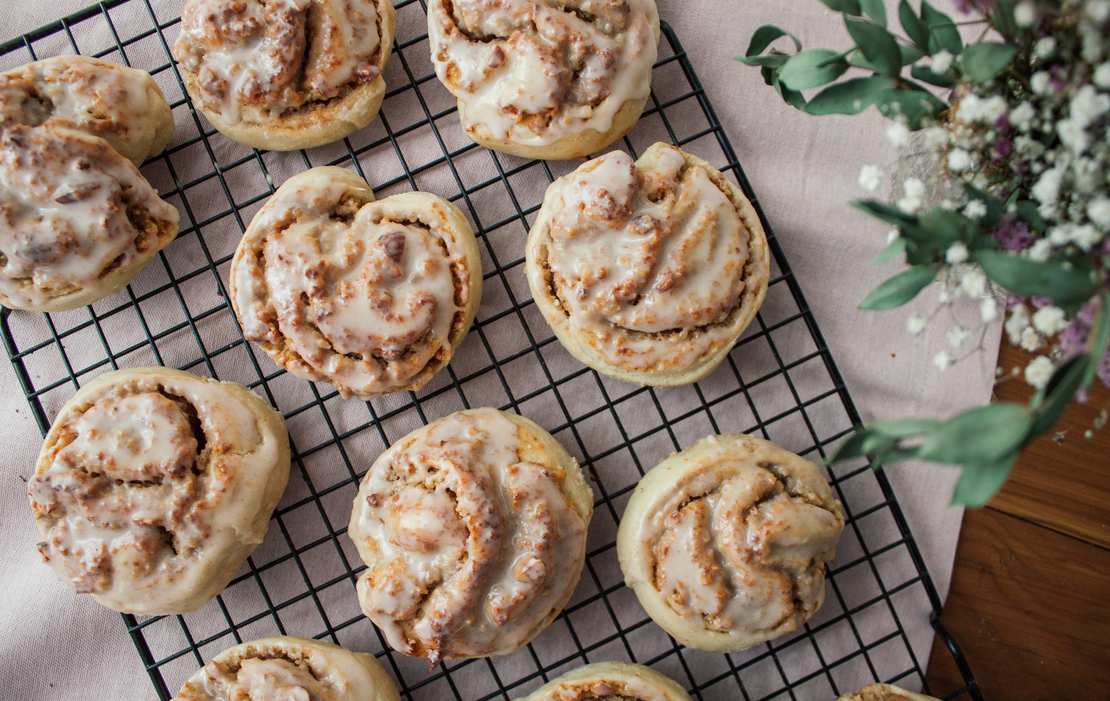 Yeast buns are a perfect "baking project" for a Sunday when you have a lot of time. Because what day would work better to knead a dough properly, let it rise two or three times and then sneak around the oven until you can finally remove the warm and sweet yeast buns out of it, right? On such a relaxed day, we love to listen to a few podcasts, tidy up the apartment, and cook lunch parallelly – suddenly time flies!
After we've already revealed our favorite recipe for vegan cinnamon buns, we dedicate today's recipe to their little sisters: nut buns! They are often in the cinnamon shadow, but why? Time for the nut bun lobby to go to work! We used almonds and hazelnuts for our recipe, but you can actually use any kind of nut for it and chop and ground it in a food processor.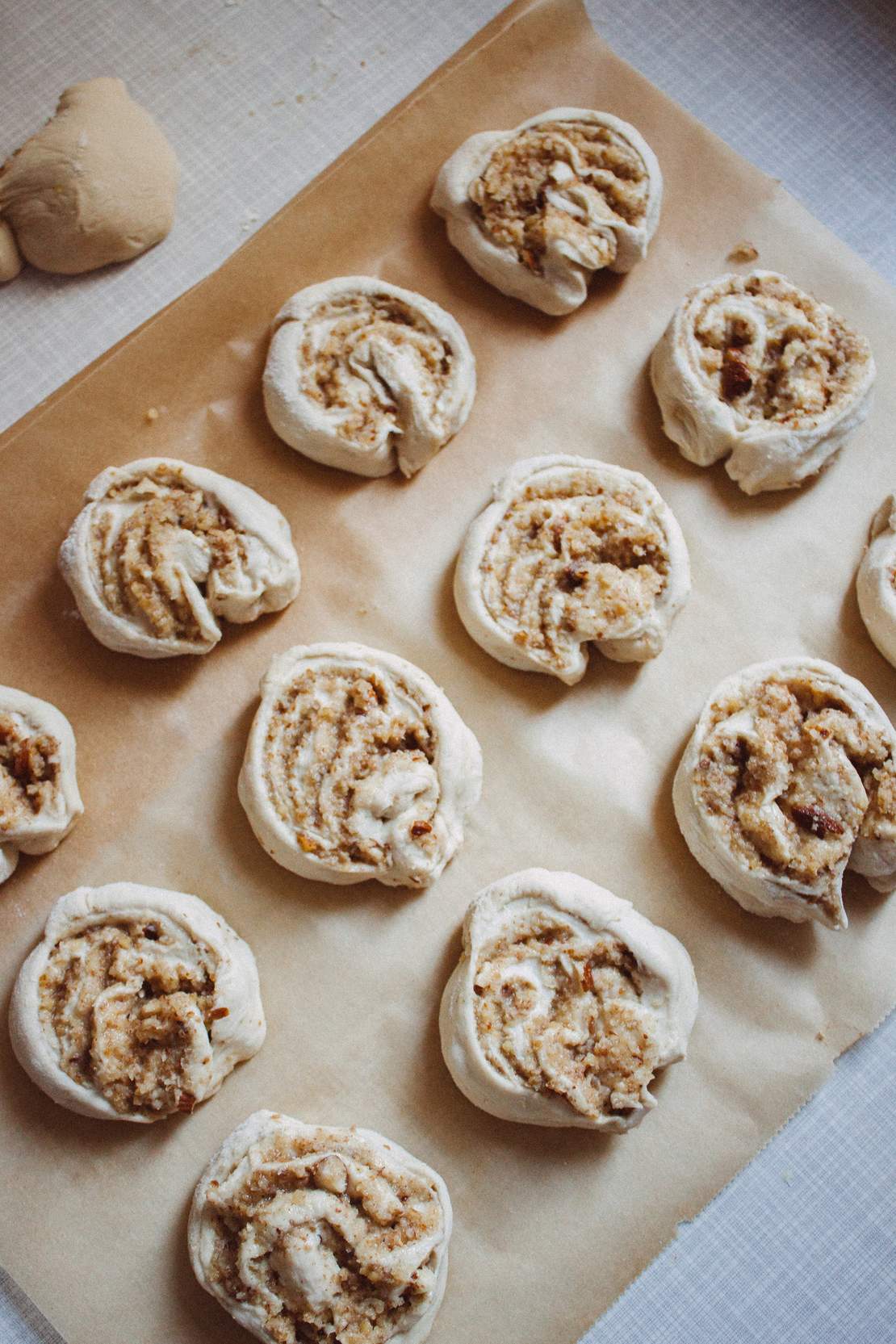 Vegan Yeast Dough
1 serving
30 minutes (+ at least 2 hours to rest)
Ingredients
15 g (0.5 oz) fresh yeast
375 ml (1.5 cups) lukewarm water
1 tbsp brown sugar
550 - 600 g (19 - 21 oz) flour
1 tsp salt
40 g (1.5 oz) coconut oil
Instructions
Dissolve the fresh yeast in warm water with brown sugar in a large mixing bowl. Wait for ten minutes. The yeast should swell and rise to the water surface.
Heat coconut oil, wait until lukewarm and add it to the bowl.
Gradually add 400 g (14 oz) flour, mix well and add salt. The dough should be very sticky.
Cover bowl with a damp kitchen towel and let rise for at least one hour. After this time you should see small bubbles on the surface, and your dough should be doubled in size.
Now add the rest of the flour until you can form a big ball out of dough. Knead the dough for some more minutes and let rise for another hour on a warm and dry place. The dough should rise for the second time. Now use the vegan yeast dough as desired.
Vegan Nut Buns
24 pieces
20 minutes (+20 minutes baking time)
Ingredients
1 vegan yeast dough (recipe below)
For the nut filling:
200 g (7 oz) ground hazelnuts
100 g (3.5 oz) ground almonds
50 g (1.7 oz) chopped nuts of choice
75 g (0.33 cup) cane sugar
1 tsp ground cinnamon
1 tbsp maple syrup
200 ml (0.75 cup) almond milk
salt
Glaze:
confectioner's sugar
water
ground cinnamon
Instructions
Prepare the yeast dough according to our recipe. While the dough is rising, prepare the nut filling. Add ground hazelnuts, ground almonds, chopped nuts of choice, cane sugar, cinnamon, maple syrup, almond milk, and a pinch of salt and stir to combine.
Once the yeast dough has risen enough, flour a surface and roll the dough out until it's rectangular. Spread the nut filling all over the dough.
Preheat the oven to 180°C/355°F. Start with the long side of the dough and roll it together carefully, but tight. Afterward, slice the dough and transfer the nut buns on a parchment-lined baking sheet. The dough is enough for two baking sheets.
Bake nut buns in the preheated oven for approx. 20 minutes. Remove from the oven and let cool down.
For the glaze, add confectioner's sugar and ground cinnamon to taste to a bowl, then add as much water as needed to get the texture you like. Some like glaze more sticky, some like it runnier, but better start with only a bit of water and add more. Glaze the nut buns and enjoy!
More Vegan Cakes & Cookies