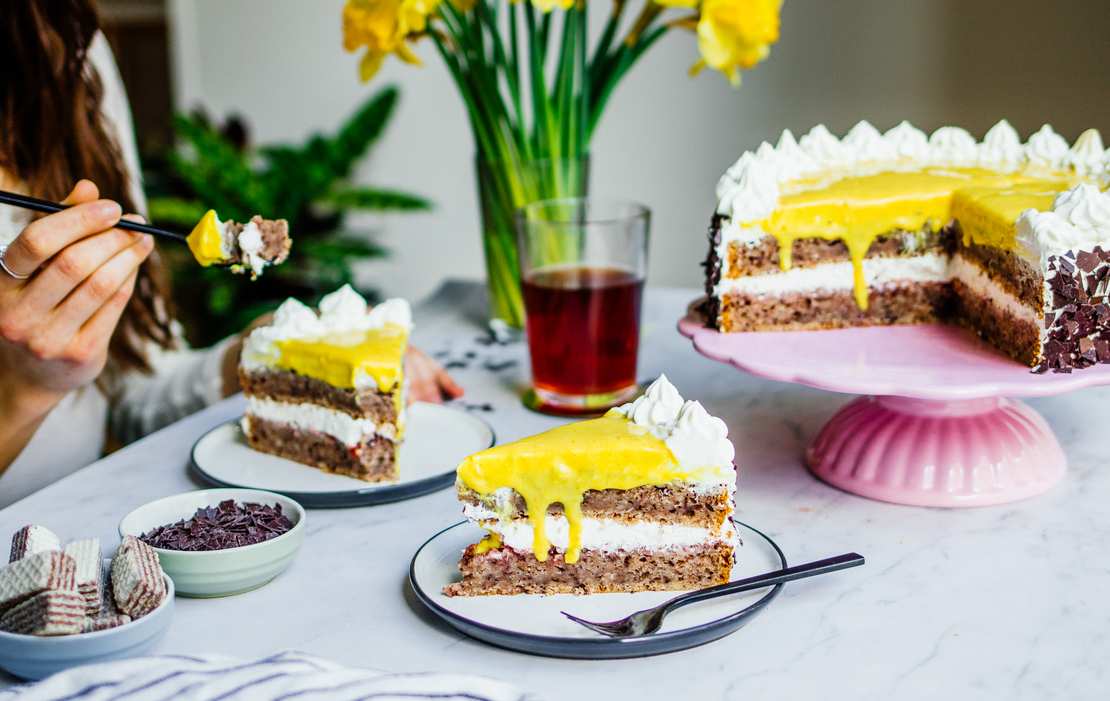 Vegan Hazelnut Advocaat Cake
Easter is just around the corner. Accompanied by many memories from the old days: looking for Easter eggs in the garden, parents sipping advocaat at the buffet, and many, many, many candies. Of course, the never-ending hunt for sweets is now a thing of the past for us, but we still enjoy eating typical "Easter recipes" every year. This includes, of course, carrot cake, peaches and cream cake, yeast buns, and advocaat cake. At least that's how we still remember it from our childhood, from our parents and grandparents. However, it has faltered in the implementation of advocaat because buying vegan advocaat is now possible, but in some cases, still somehow tricky to find.
We have therefore made vegan advocaat ourselves. The best thing about it: You can decide how much alcohol you want to use and adjust the consistency and sweetness according to your taste. We baked moist hazelnut bases and covered them in whipped cream and curd coating. In the batter, we added Manner Original Neapolitan Wafers, which gives the batter an even more intense hazelnut flavor, but also provides the typical "Manner taste". The wafers are produced following the principles of the Manner Quality Guarantee and sustainable cocoa cultivation. This means that only UTZ-certified cocoa from farmers who are also UTZ-certified is used. By the way, Manner is still mostly family-owned and produces all of its products in Austria, which we think is pretty cool. Besides the classic Manner Wafers, there are also a few more vegan options! Here you can find all vegan products from Manner.
If you want to serve the cake, we recommend preparing the two bases, the vegan advocaat and the cream, already the day before. This way, the cream, and the advocaat can chill properly in the fridge (and the layers too). The next day you can assemble and decorate the cake. For the cream, you need vegan whipped cream and vegan curd. With the whipping cream, you should make sure that it is labeled as "whippable". With the whipped cream, you should make sure that it is really "whippable" because sadly, vegan cream for cooking does not whip at all. Vegan curd is available in supermarkets and organic markets. It is particularly well suited for a cake-cream, as it is much firmer and creamier than plant-based yogurt. So be sure to keep an eye out for these products.
And now we wish you lots of fun baking this vegan advocaat cake!
Homemade Vegan Advocaat
Ingredients
37 g (1.33 oz) vanilla custard powder
3 tbsp sugar
500 ml (2 cups) plant-based milk
1 vanilla bean
100 ml (0.5 cup) rum or vodka
100 ml (0.5 cup) vegan cooking cream
1 pinch of kala namak
1 pinch of turmeric (optional)
Instructions
Prepare custard powder according to package instructions. Usually, you mix custard powder with sugar, then gradually add some plant-based milk until the mixture is smooth. Bring remaining plant-based milk to a boil while stirring, then add the mixed powder. Let the pudding simmer for approx. 1 minute while constantly stirring. Remove from heat and let cool down.

Halve a vanilla pod lengthwise and scrape out the vanilla pulp with the back of a knife.

Add vanilla pulp, rum or vodka, vegan cooking cream, and kala namak to the pudding and stir to combine. If desired, add some turmeric to get a more intense yellow color. Season vegan advocaat to taste and refrigerate for at least one hour.
Vegan Hazelnut Advocaat Cake
1 springform pan (∅ 26 cm / 10 inches)
90 minutes (+ baking- & cooling time)
Ingredients
For the hazelnut base:
300 g (11 oz) Manner Original Neapolitan
600 g (5 cups) whole wheat flour
200 g (7 oz) ground hazelnuts
250 g (1.25 cups) sugar
20 g (1 tbsp) baking powder
16 g (4 tsp) vanilla sugar
1 l (4 cups) sparkling water
200 ml (0.8 cup) vegetable oil (e.g., rapeseed or sunflower oil)
For the pastry cream:
400 ml vegan whipped cream
16 g (2 tbsp/2 sachets) cream stiffener
16 g (2 tbsp/2 sachets) vanilla sugar
100 ml (0.4 cup) water
30 g (1 oz) agartine (with 30 % agar agar)
100 g sugar
800 g plant-based curd
Additionally:
baking paper to line the springform pan
vegan butter/oil to grease the springform pan
150 g (5.25 oz) red currant jam or jelly
100 g (3.5 oz) chocolate chips (dark)
100 ml (0.5 cup) vegan advocaat
Instructions
Hazelnut bases
Preheat the oven to 180°C/355°F (circulating air). Mix the Manner Original Neapolitans in a shredder until only fine flakes are visible.

Mix the crushed wafers, whole wheat flour, ground hazelnuts, sugar, baking powder, and vanilla sugar in a large bowl.

Now add the sparkling water and vegetable oil and stir in just briefly. Do not over-mix the batter to keep the cake tender.

Grease a springform pan (∅ 26 cm/10 inches) with vegan butter or a little oil and line the bottom of the pan with baking paper. Add the batter and bake the cake at 180°C/355°F for approx. 40 minutes. Then let cool completely and do the same with the second cake base.

When both cake layers have cooled completely, straighten them with a cake cutter or a cake knife, if necessary, so that you get two equally high and straight cake layers.
Pastry Cream
Whip up the vegan cream with cream stiffener and vanilla sugar and refrigerate immediately.

In a large saucepan, combine the water and agartine with a whisk and bring to a boil. The mixture should boil vigorously for at least 2 minutes. Stir continuously.

Now remove the saucepan from the heat and gradually whisk in the sugar and vegan curd. Then place in the refrigerator.
Tip: Sometimes agar-agar cools down faster than you wish. Then sieve the mixture or blend it briefly until it is smooth again.
When the mass has cooled down a bit, fold in the whipped cream carefully. Refrigerate the mixture immediately.
Assemble
On a platter, place one of the hazelnut bases and coat it with the redcurrant jam. Spread a layer of cream on top that is at least half as high as the hazelnut cake layer. Using a piping bag is comfortable. If necessary, smooth the cream with an angled cake palette knife or a spoon.

Now, place the second layer on top of the cream and cover the cake with frosting all around. With the second base, the cream layer should also be at least half as high. Safe up some cream for the dollops on top of the cake.

Once the cake is completely covered in cream, wrap the cake's sides with chocolate shavings. Place the shavings into your bent hand, gently press them against the cake and slowly pull upwards so that the chocolate shavings stick to the coating.

Now, use a piping bag to place the cream dollops close together on the cake so that the vegan advocaat does not drip down.

Pour the advocaat over the cake and refrigerate for at least 2-3 hours.
Tip: If the vegan advocaat has the same color as the frosting, a pinch of turmeric in the advocaat comes in handy. It doesn't make a difference in taste, but the advocaat contrasts better in color to the frosting!
More Vegan Cakes & Cookies