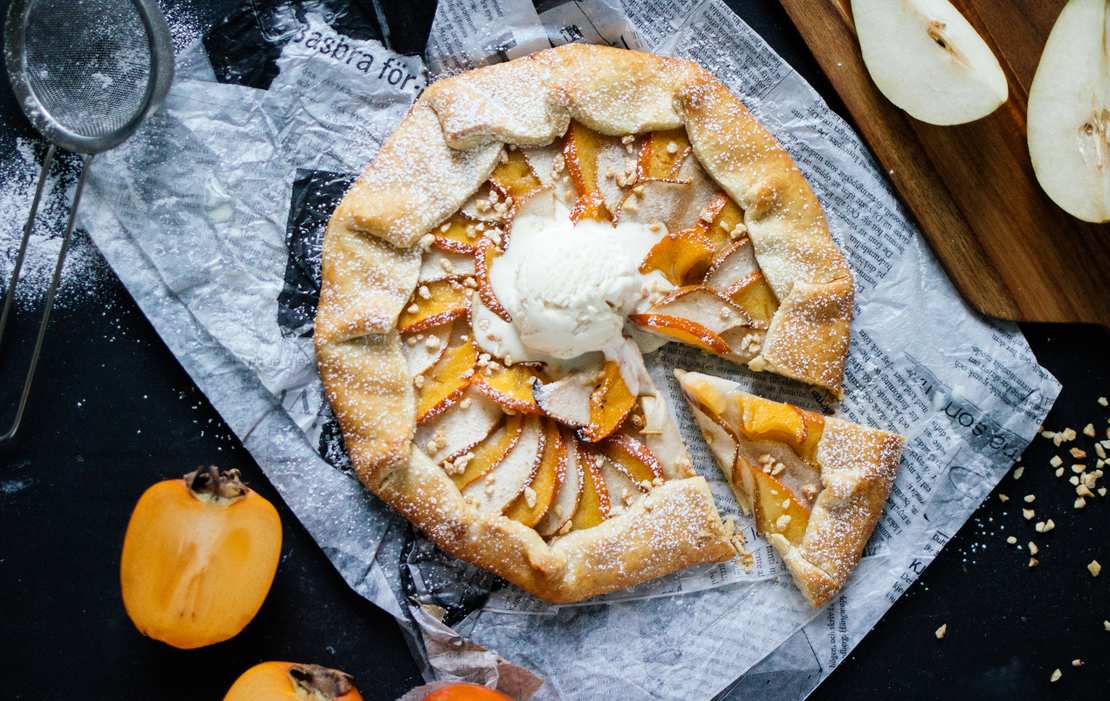 Vegan galette with pear & persimmon
Until now, we've baked vegan galettes not very often. But galettes are the perfect dessert if you are looking for something sweet and fruity that you can share in a small group of people. Also, it sounds quite professional to say you baked a galette, compared to muffins and cakes.
Galettes are just "open pies," so a pie without the dough on top. We used our favorite vegan pie dough for the recipe, which we have already used for our [Apple Pie] (https://www.zuckerjagdwurst.com/de/rezepte/veganer-pie-mit-karamellisierte-epepkins) and just used halved the amounts of the ingredients. After the dough has chilled in the fridge for at least 30 minutes, you can roll it out and fill it as you like. In late summer you can use cherries, apple slices in winter, and plums in autumn. We made a galette with persimmon and pear, cause we didn't saw this mix very often before. But it's completely up to you!
Vegan galette with pear & persimmon
1 galette
30 minutes (+ 60 minutes waiting time)
Ingredients
vegan galette dough
300 g (2.5 cups) flour
150 g (0.6 cups) plant-based butter
50 g (0.25 cups) white sugar
1 pinch of salt
4-5 tablespoons ice water
filling
1 pear
1 persimmon
1/2 tsp cardamom
1/2 tsp cinnamon
1/2 lemon
2 tbsp agave syrup
1 tbsp white sugar
2 tbsp plant-based milk
toppings
powdered sugar
nuts (chopped or sliced)
plant-based vanilla ice cream
Instructions
Preparing the dough
Mix flour, sugar, and salt in a large bowl. Put the cold butter in flakes and stir with cold hands.
Add the ice water. If the dough is still too firm, add more water. The dough should not be sticky but form a nice, even ball.
Let the dough cool for at least 30 minutes in the fridge or even better for 2 hours.
Filling the galette
Wash and slice pear and persimmon. Halve the slices again to get semicircles.
In a small bowl mix the juice of half a lemon, 1 tablespoon agave syrup, 1/2 tsp cinnamon, and 1/2 tsp cardamom. Add the fruit slices and mix with your hands.
Roll out the dough on a floured surface (and cut off the edge with a sharp knife to get a nice circle/oval) and cover a baking tray with baking paper.
Place the dough on the baking sheet. Preheat the oven to 180 ° C.
Place a bowl or a small plate on your dough so you get a border to evenly fill the galette (5 cm should remain to the edge of the galette).
Arrange the slices (overlapping slightly) and fold crust over the fruits. Sprinkle 1/2 tsp of white sugar on top of the fruits.
In a small bowl, mix 2 tbsp of plant-based milk and 1 tbsp of agave syrup. Brush the crust with the mixture. Bake on a medium rack for 45 minutes.
Serve still warm and top with icing sugar, chopped nuts, and ice cream.
More Vegan Cakes & Cookies