No-bake chocolate biscuit mini cakes
It won't get easier than this. This headgehog slice (in Germany we often call it "Kalter Hudn" / Cold Dog", by the way) might be the pioneer of no-bake cakes. It consists of several layers of cookies and a cocoa-coconut-cream and the only "baking utensil" you need is your fridge.
To be honest, I haven't eaten this dessert in my childhood, but it still reminds me oft he paste and it's also SO easy to veganize. We also gave this dish a small makeover. Served cube-shaped it even looks like a fancy dessert that you can garnish with various toppings of your choice. If you like, you can also add some rum to the chocolate cream, we're simply no big fans of that.
Also experiment with the cookies. There are vegan butter cookies to buy, but why not use Oreo cookies or speculoos when it's christmas?
IMPORTANT NOTE! As you can see, we made a LOT of this (we still find leftovers in our fridges), so this amount is more for bringing something to a party. For yourself, feel free to halve the ingredients and you will still get a loaf pan filled.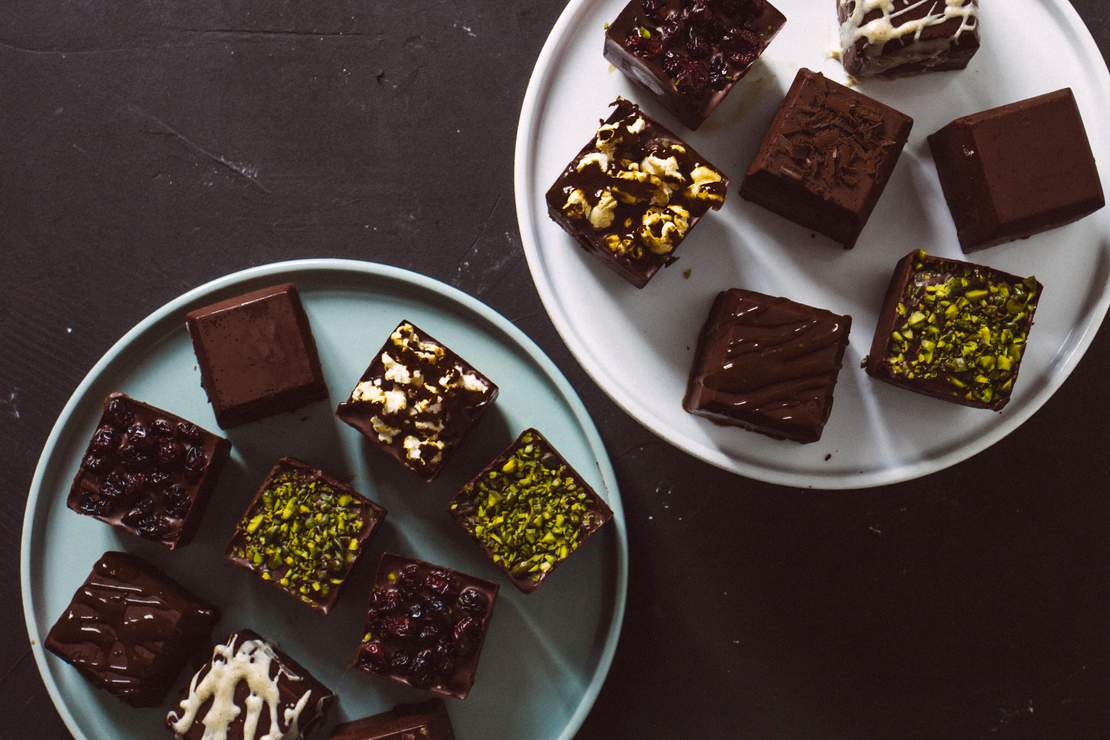 Vegan no-bake chocolate biscuit mini cakes
Ingredients
1400 g (50 oz) dark couverture chocolate
6 tbsp coconut oil
3 tbsp unsweetend cocoa powder
75 g (0.33 cup) plant-based butter
For cookie layer
Approx. 40 vegan cookies, Oreo cookies or almond biscuits
Topping of choice
50 g (1.75 oz) pistacchios
3 tbsp popcorn
3 tbsp vegan caramel*
100 g (3.5 oz) vegan white chocolate
50 g (1.75 oz) dried cranberries
Instructions
Melt chocolate, then add coconut oil, cocoa powder and vegan butter and stir to combine. To melt the chocolate, you can either use a double boiler (a heatproof bowl set over a saucepan with simmering water) or use a microwave. Afterward, let the chocolate cool down a bit.

Layer chocolate and cookies alternating in ice cube molds (silicone works great here!). Start with a chocolate layer, then spread cookies on top and keep doing it until all ingredients are used up, but end with a chocolate layer. You can use whatever cookies you like, we tested out Oreos, vegan butter cookies and speculoos and... well, we liked them all.

Transfer ice cube tray to the fridge and chill for approx. 3 hours or until the no-bake cake is firm. Enjoy directly or slice for serving!
More Vegan Chocolate & Sweets Recipes and Plant-Based Copy Cats