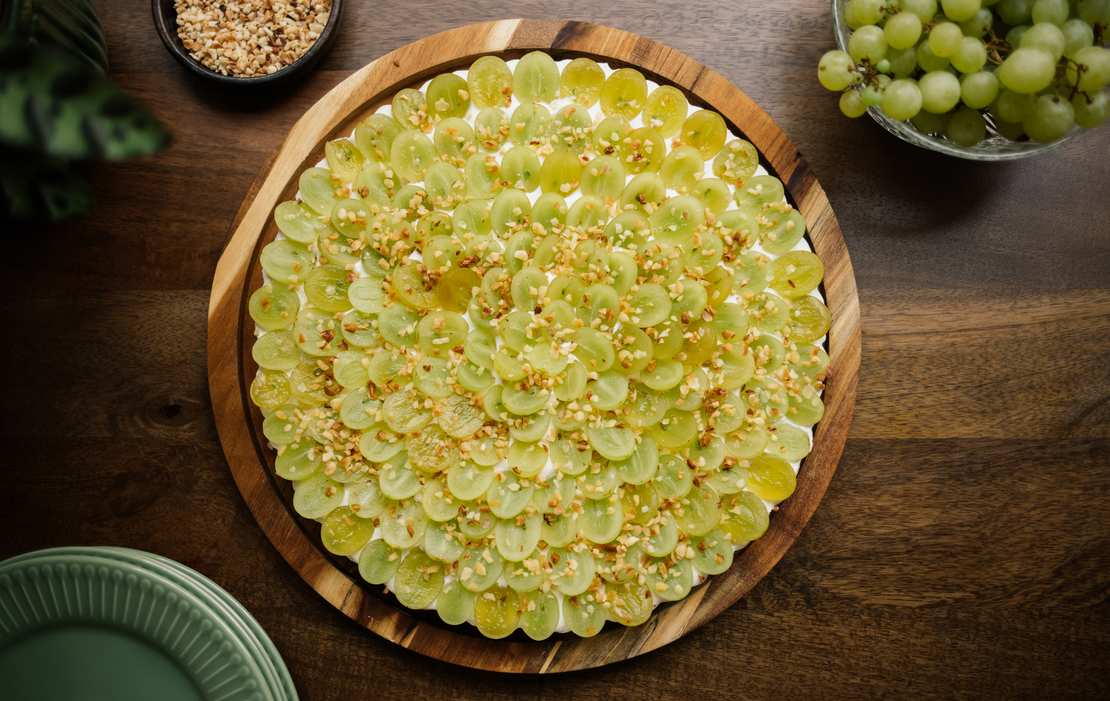 Easy Grape Cake with Plant-Based Yogurt
In my family, a grape cake used to be an absolute summer classic which is why I was super surprised to find out that nobody in the office ever ate a grape cake. In my opinion, grapes are an absolute win for any summer cake, but they are actually super rarely used. So what does a grape cake actually consist of? As I know it from my family, there are three layers: a fluffy sponge cake, whipped cream, and grapes. We added ground hazelnuts to the batter and garnish and refined the cream layer with plant-based yogurt to make it a bit lighter.
Important note! You should prepare this cake a day in advance, as it's best to refrigerate it overnight. This way, the cream becomes wonderfully firm and the grapes wonderfully cold.
Here are a few other tips for the recipe.
The right baking dish: We baked our base in a tart pan (diameter: 28 cm / 11 inches), which we greased with vegan butter and dusted with flour. You could just as well use a springform pan – it's actually only important that you have a relatively high edge around the baking dish which will help to spread the cream evenly on the baked sponge cake. Depending on how big your baking dish is, your cake base may become flatter or thicker, and the baking time will change accordingly. So always test your cake for doneness with a wooden tooth stick.
Season the cream to taste: Every now and then, we get messages like "xy was too sweet for me." or "xy could have been saltier." You should a-l-w-a-y-s season your dishes to taste – not only savory but also sweet ones. Of course, you can't do this with an unbaked yeast cake, but it's definitely possible when preparing a sponge cake batter and a cream layer. Regarding the cream, it can make a big difference which plant-based heavy cream and yogurt you use – both were unsweetened in our case, so we used a little more vanilla sugar. However, if you use sweetened plant-based yogurt or sweetened heavy cream, you can omit or reduce the vanilla sugar. Or maybe you just love the taste of lemons and want to use even more zest – just make sure to taste the cream before spreading it on the cake.
Help, I'm allergic to hazelnuts! First of all: uffs, we feel for you! Fortunately, this isn't a big problem with this recipe because you can either replace the ground and chopped hazelnuts with almonds or even omit them completely. In the batter, simply replace the ground hazelnuts with more flour.
I don't like grapes! What a pity, but no worries! Instead of grapes, you can use any berries of the current season.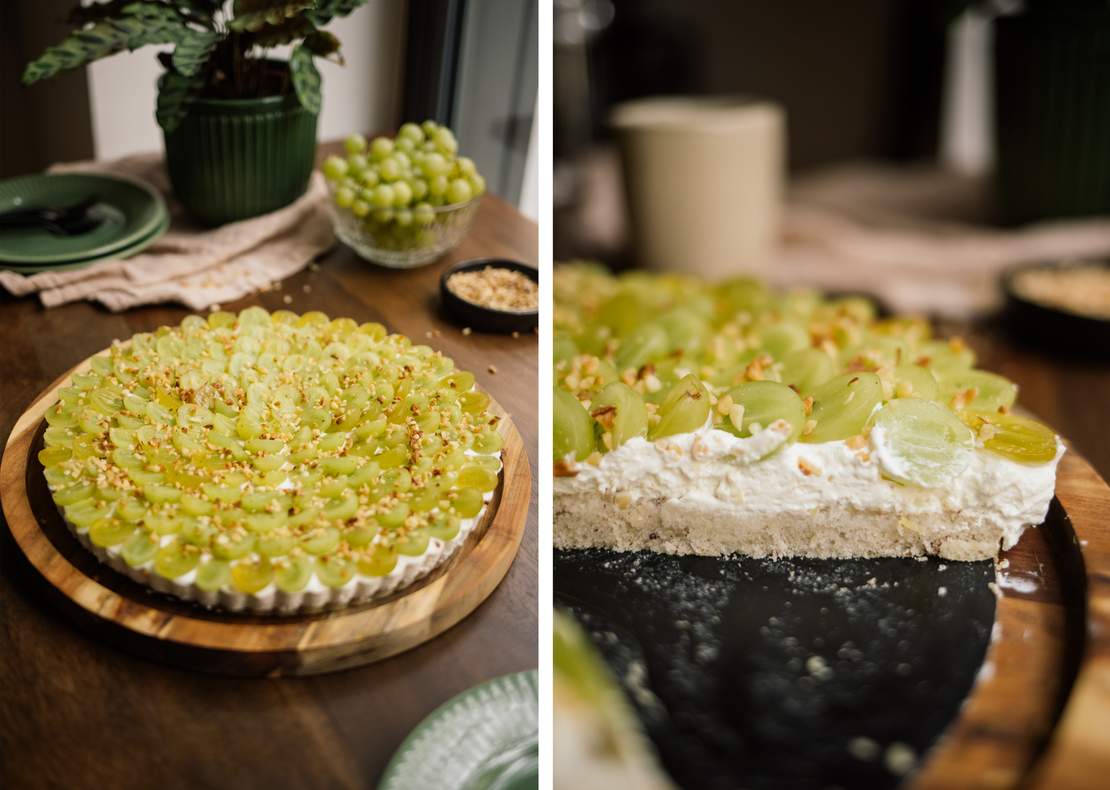 Easy Grape Cake with Plant-Based Yogurt
1 cake (tarte baking pan Ø 28 cm / 11 inches)
25 minutes (+ 15 minutes baking time + cooling time)
Ingredients
For the sponge cake:
135 g (1 cup) flour
20 g (1.5 tbsp) ground hazelnuts
80 g (0.5 cup) sugar
3 g (0.5 tsp) baking powder
4 g (0.5 tsp) vanilla sugar
50 ml (0.25 cup) sunflower oil
150 ml (0.66 cup) sparkling water
For the plant-based cream:
400 ml (1.66 cups) plant-based heavy cream for whipping
16 g (2 tbsp) cream stiffener
12 g (2 tsp) vanilla sugar
250 g (1 cup) plain plant-based yogurt
1 lemon (zest)
Also:
vegan butter for greasing
flour for greasing
500 g (1 lb) seedless green grapes
chopped hazelnuts for garnish
Instructions
Preheat oven to 180°C/355°F (circulating air). For the sponge cake, add flour, ground hazelnuts, sugar, baking powder, and vanilla sugar to a large bowl. Add sunflower oil and sparkling water and just briefly stir to combine and avoid over-mixing the batter.

Grease a tart pan (or springform pan) with vegan butter and dust it with flour. Add the batter and bake the cake on the medium rack of your oven at 180°C/355°F for approx. 15-20 minutes. Insert a toothpick into the cake to check if it's done – if you remove the toothpick, it should be clean without any crumbs sticking to it. Remove the cake from the oven and let it cool out completely.

Once the cake is cooled, prepare the cream. Add plant-based heavy cream, cream stiffener, and vanilla sugar to a bowl and beat until stiff. Add plant-based yogurt and lemon zest and carefully stir to combine. Season the cream to taste and add more sugar or lemon zest if desired.

If desired, level the cooled-down cake, then transfer it back to the baking pan with the rim around it. Spread the cream on top of the crust and smooth it out, then refrigerate it until needed.

Wash green grapes and halve them or leave them whole. Remove the cake from the fridge and arrange the grapes on top of the cream. Sprinkle chopped hazelnuts on top, then refrigerate the cake (best overnight) until serving.
More Vegan Cakes & Cookies