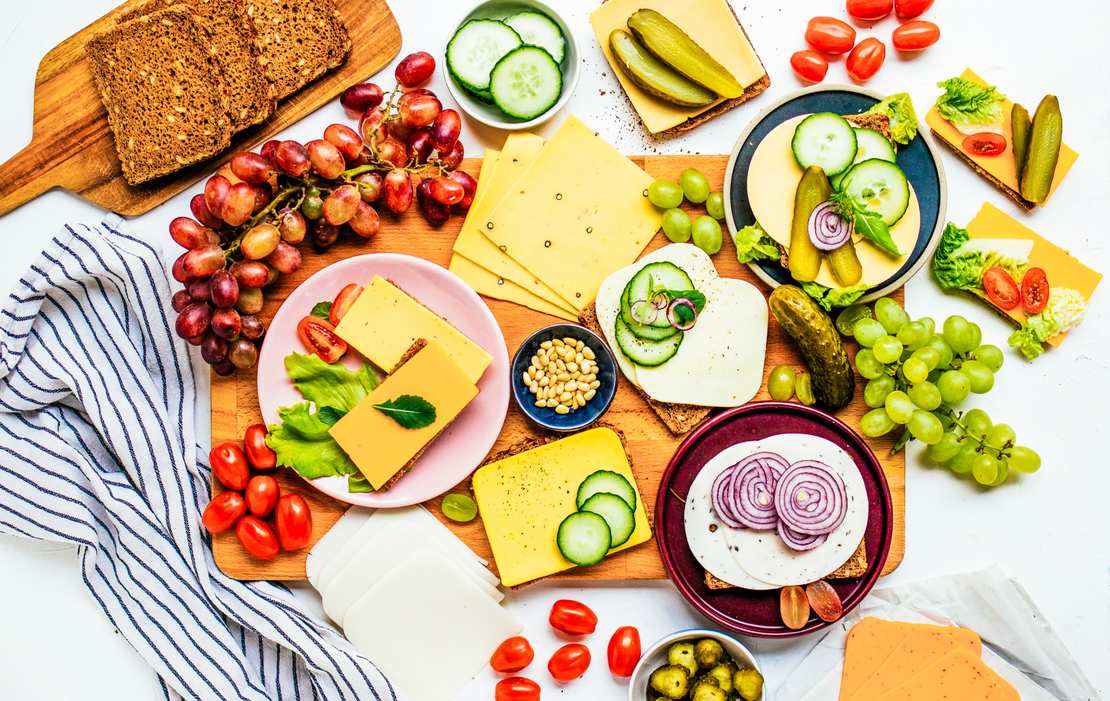 Vegan Sliced Cheese in German Supermarkets
Week after week, you can find more vegan products in German supermarkets and organic stores. It's hard to keep track of them all, so we regularly eat our way through vegan alternatives, so you don't have to. Which vegan cheese or sausage is our favorite and which is the vegan ice cream we wouldn't buy again? You can find all of our vegan shopping guides here.
Papperlapapp! What a nice German word! We love to talk about food. A lot. Our favorite bakery now offers vegan cookies? Wheee! Our favorite yoghurt now comes in new flavours? Yay! And this new kitchen gadget (now also available in pastel colours) twists our head? Phew! There is a lot to talk about in this world full of beautiful things. Here is the place where we tell you, what's keeping us busy, happy or astonished.
It's that time again! We spared neither expense nor effort and have gone through the supermarkets for you in search of the world's best vegan products that the market currently has to offer. We asked you what you find most challenging in the vegan diet or what is missing the most. Again and again, we get one answer: cheese! Therefore, we have decided to grill the available varieties. We paid attention to criteria such as taste, consistency, list of ingredients, price, organic quality, or availability. Of course, all results are purely subjective - fortunately, tastes are different.
For orientation: We have arranged the cheeses in alphabetical order, just like the supermarkets. The order, therefore, plays no role in our evaluation. We have neither received money from a brand or an agency and judged purely according to personal feeling.
Help us to keep this guide up to date!
Have you discovered another vegan cheese option in the supermarket? Please post it in the comments and, of course, tell us how it tastes! We're looking forward to hearing news from the cheese counter to keep this guide up to date.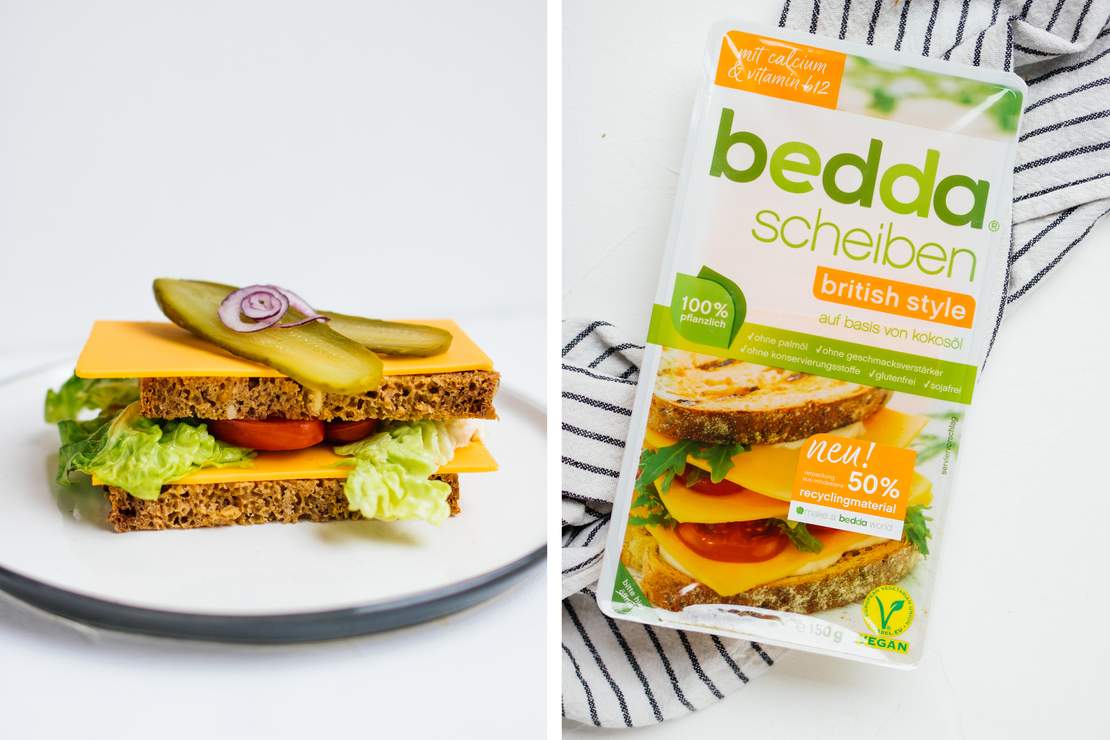 Vegan varieties: british style, classic, fenugreek, goatcha (goat cheese-style), pepper, slices for melting, mediterranean, rustic
Price: 2,99 € (150 g)
German Supermarket: Edeka, Kaufland, Real, Rewe, Tegut, Veganz, Online (Vantastic Foods, Kokku)
Main ingredient: coconut oil
The consistency of Bedda slices is slightly firmer compared to other varieties. There is a wide range of flavors. We especially liked pepper, as it has a pleasant peppery taste. The packaging is 50 % recycled material, the cheese is without palm oil and flavor enhancers, soy-free and gluten-free!
Vegan varieties: cheddar, mozzarella basil, mozzarella original
Price: 2,49 € (80 g)
Supermarket: Veganz, Online (Kokku, Vantastic Foods)
Main ingredient: sprouted whole grain rice.
MozzaRisella comes from Italy, and the Italians are known to be specialists in making mozzarella. We're reaching for the round slices of mozzarella with basil. They're made partly from sprouted whole grain rice, which is something we haven't seen before. The slices themselves are elastic and a little jelly-like. For sure, there is agar-agar in use. We really like the basil flavor. Next time we plan to combine the slices on our bread with fresh tomato for that typical Caprese feeling. And we also want to mention that there are no hidden E-numbers, and MozzaRisella is produced entirely organically.
Vegan varieties: burger, creamy, natural, nutty, spicy
Price: 2,99 € (150 g)
Supermarket: Aldi, Edeka, Kaufland, Real, Rewe, Tegut, Veganz, Online (Kokku, Vantastic Foods)
Main ingredient: Almond, Cashew, Walnut
You've probably come across Simply V before. This vegan cheese is in nearly every major supermarket and the smaller ones, and even in discounters. That facilitates a change to vegan nutrition enormously. The varieties of Simply V are among the favorites in our test. "Spicy" tastes not penetrating and nice and cheesy. The cashew-based "Creamy" is nice and elastic, and light. Creamy, we think, is a bit like Gouda, how cheese should be! Besides, the packages are printed with the Eaternity Score. This tells you, among other things, how much water was used or Co-2 was produced during production. The ingredient list is also impressive - clear and without E-numbers.
Vegan varieties: herbal, mild, strong
Price: 2,49 € (125 g)
Supermarket: Edeka, Rewe, Spar, Veganz Online (Vantastic Foods, vekoop)
Main ingredient: coconut oil
Veganz also offers vegan sliced cheese. In terms of consistency, it is very similar to Bedda. Logically, because a look at the packaging reveals: here, too, the base is coconut oil. There are three varieties, "herbs" is to our surprise the big favorite. It even doesn't taste artificial, on the contrary! We think to taste thyme, and during tasting it feels a little of vacation on the Alm. Definitely one of our winners! And don't worry, you can find the cheese not only at Veganz locally but also at some supermarkets or in the online store.
Vegan varieties: herbal, natural mild
Price: 2,79 € (150 g)
Supermarket: health food stores
Main ingredient: coconut fat
We discovered the Veggi Filata slices in the organic food store. However, in terms of price, 2,79 € for 150 g, they do not differ from the supermarket's well-known brands. There is a small but fine choice between herbal and natural mild. We decided to test the latter. Immediately upon unpacking, we finally notice a cheese with nice thick slices! They are based on coconut fat and slightly crumbly, but not mealy. We also notice that agar-agar is hidden in the recipe. Our conclusion on the taste: the cheese does not taste penetrating and has a slight cheese note. We especially like the fact that the company produces entirely organic, soy-free, and gluten-free in Germany!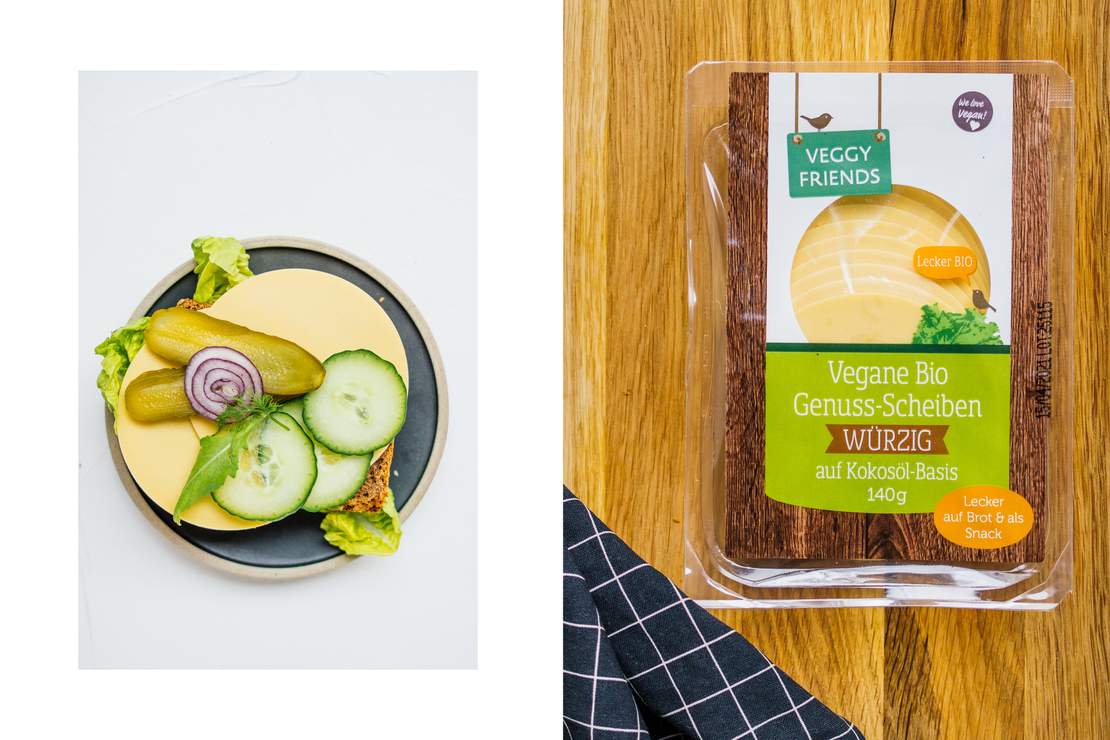 Vegan varieties: natural, paprika, spicy, wozza,
Price: 2,99 € (140 g)
Supermarket: Edeka, Real, Rewe, Veganz,
Main ingredient: coconut oil
Oops, we know Veggy Friends. Their sausage alternatives are welcome guests on our breakfast table, and in the supermarket, we run past them more and more often. However, the fact that they also have vegan cheese in their range is new to us. The more we're excited! There are four varieties, and we decided to top our bread with "Spicy". The slices break quite easily, our taste test results: not only spicy, but also really nice smoky, but a bit mealy on the tongue. And Veggy Friends also produces 100% vegan and also GMO-free.
Vegan varieties: cheddar, gouda, mozarella, smoke
Price: 2,79 € (140 g)
Supermarket: Edeka, Globus, Veganz, Vitalia, health food stores, online (Kokku, Vantastic Foods)
Main ingredient: coconut oil
We also know Violife from the USA and Canada. If you're like us and you're on Instagram from time to time, you've probably seen it in one or two stories of international vegan food bloggers. All the nicer that we have already discovered him here. A little tip: Check out your trusted health food store if you can't find it in the supermarket. The slices that we have tried are somewhat brittle and slightly mealy on the tongue.
On the other hand, the smoke variety is intensely smoky - great for those who like it hearty. Violife has slices of organic quality in its assortment. If you're specifically looking for it, you better look carefully because not all varieties are organic. It is not relevant for the taste, but: The packaging here is lovely.
Vegan Varieties: chili, classic, herbs, paprika, mushroom, queen style, tomato basil, spicy
Price: 2,79 € (150 g)
Where to buy it: Edeka, Kaufland, Rewe, Tegut, Veganz, Online (Kokku, vekoop)
Main ingredient: coconut oil
Wilmersburger has a huuuuuuuge selection! This could be because they were in the vegan cheese game very early, and it makes our little cheese hearts skip a beat. The flavor of mushrooms or tomato-basil, we haven't encountered anywhere else. So it goes directly to testing. Also, it's coconut oil based, which seems to be classic among manufacturers. For us, the slices might be a bit greasier and softer, but on to the taste. In a blind tasting, we probably wouldn't have immediately come to tomato and basil, but they are nice cheesy, delicious! What is particularly noteworthy here - the ingredient list is short and clear, also there is Wilmersburger in many larger supermarkets, so we like it!
More Vegan Shopping Guides