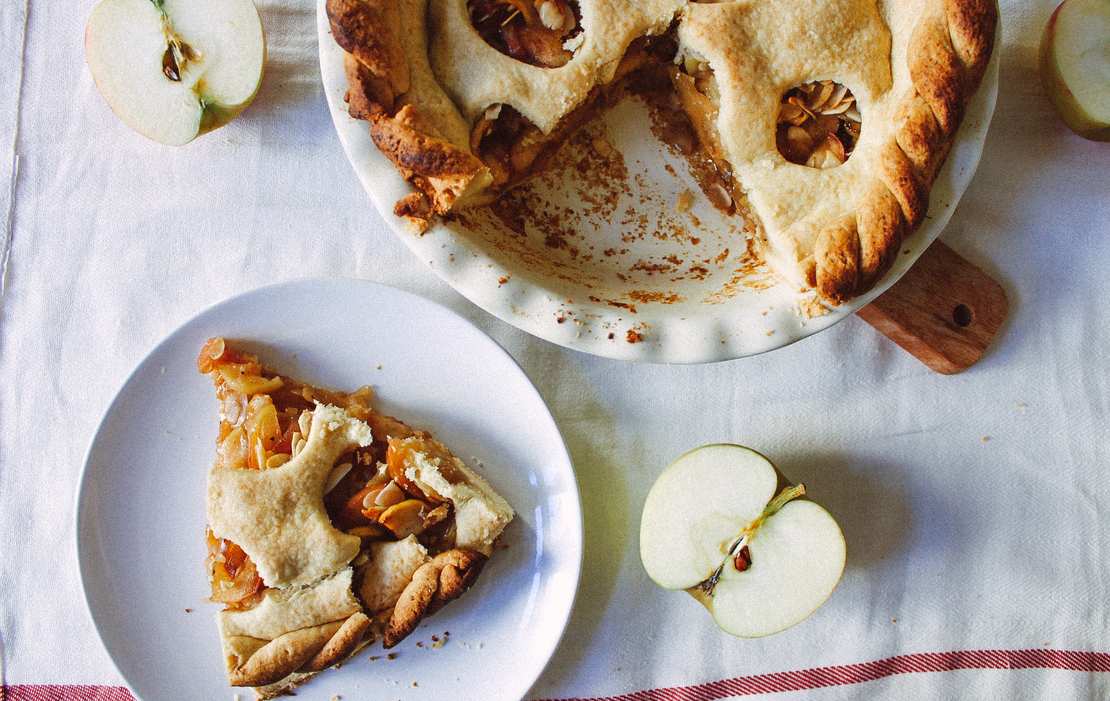 Vegan Pie with caramelized Apples
It's the all-round pie for the whole year. Well, apple pie might be a Thanksgiving classic, but it's really a pie for the whole year. The combination of apple and cinnamon is a winner and match made in heaven. For our pie crust, we used our basic vegan shortcrust that you might met when we did summer tartelettes. Remember: You don't have to be afraid of shortcrust. If you keep any ingredients real cold, this is an easy recipe. But since the art of pie crust gets real perfectionistic sometimes, we can only recommend to keep it easy. Your pie will also taste great without a braid.
Vegan Pie with caramelized Apples
Ingredients
FOR THE DOUGH
600 g (4.75 cup) flour
300 g (1.25 cup) vegan butter (cold!)
6 tbsp sugar
1 pinch of salt
9 tbsp ice cold water
ALSO
6 apples
2-3 tbsp vegan butter
4 tbsp agave syrup
2 tbsp maple syrup
2 vanilla beans
3 tbsp cinnamon
50 g (2 oz) sliced almonds
Instructions
In a large bowl mix together flour, sugar and salt. Add cold butter in pieces and knead with cold hands (just run them under cold water before). Add 9 tbsp of icecold water and keep kneading until your dough is just fine. You can add more water it it's too dry, but the dough should not be sticky.
Split into 2 parts, wrap them up in wrapping film and put them in the fridge for 30 minutes at least.
In the meantime, you can prepare the pie filling. Wash apples and cut into slices. Melt 2-3 tbsp vegan butter in a large pan, add apple slices and let them slightly roast for 5 minutes. Afterwards add agave nectar and maple syrup to let everything caramelize for 5 more minutes. Keep stirring from time to time. Scratch out vanilla beans and add vanilla together with cinnamon to your apples. Slew well, take from the heat and let it stand aside.
When your dough spent enough time in the fridge, take it out. Flour a nice surface and roll out the both doughs. Try to roll each of them out as circle as good as you can. The pie's caliber should be about 3-4 fingers wider than your pie form, since you have to think about the rim that should be covered as well.
Spread some vegan butter and flour all over the pie form so nothing will stick on it later. Add the first rolled out dough, don't forget the rim and cut off everything that overlaps.
Fill in all caramelized apples and add sliced almonds on top.
With the second tough, you can be creative. You can cut out some small pieces or cut this into stripes and braid it. Just make sure that you don't tough the dough too much because it will get cracky otherwise. Just google pie crust art ;).
Now your pie is going to roast in the oven at about 400°F for 30-40 minutes. Serve warm with vegan cream or icecream!
More Vegan Cakes & Cookies