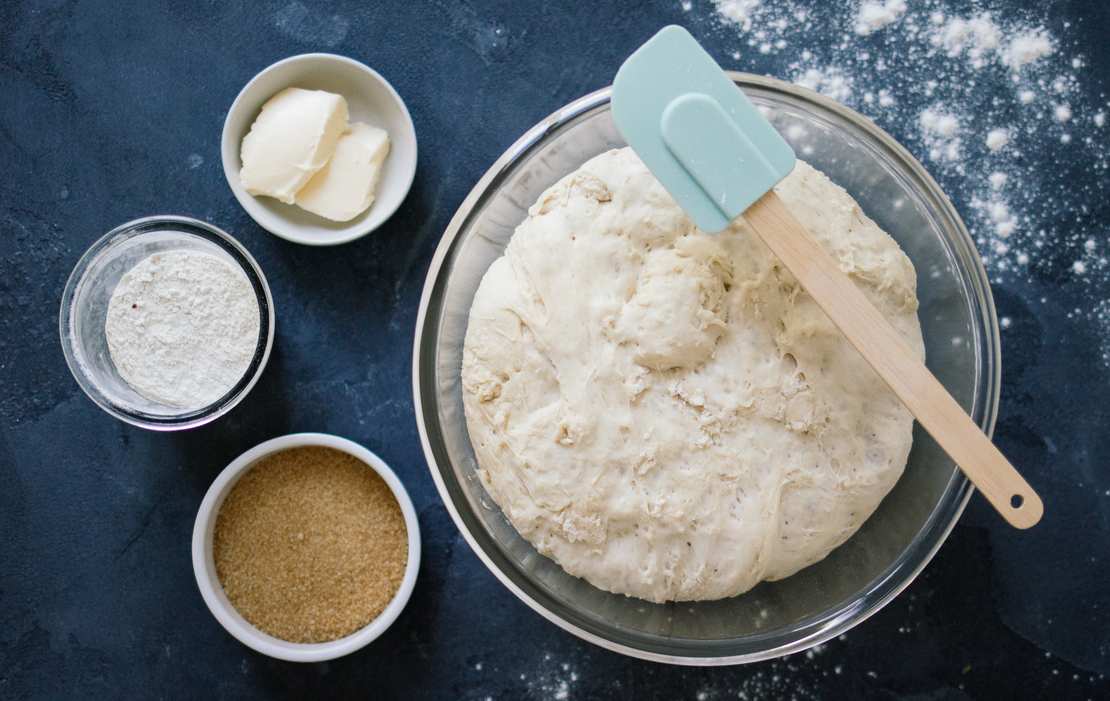 Making a yeast dough is one of our most important basics. Why? Cause you can do so many great things with: cinnamon-rolls, pizzas, donuts, breads and so much more!. One time you do a yeast dough, you will need it more and more often. We show you how to do it right. The most important ingredient is patience. Your dough needs a lot of time to riiiiise, riiiiise and riiiiise. That's quite important!
Have a look for a warm and safe place and eliminate draughts of air. A place in the sun, next to the heating or in your oven is fine. Cover with plastic wrap or a slightly wet towel. It's easypeasy. You can do that!
Vegan Yeast Dough
1 serving
30 minutes (+ at least 2 hours to rest)
Ingredients
15 g (0.5 oz) fresh yeast
375 ml (1.5 cups) lukewarm water
1 tbsp brown sugar
550 - 600 g (19 - 21 oz) flour
1 tsp salt
40 g (1.5 oz) coconut oil
Instructions
Dissolve the fresh yeast in warm water with brown sugar in a large mixing bowl. Wait for ten minutes. The yeast should swell and rise to the water surface.
Heat coconut oil, wait until lukewarm and add it to the bowl.
Gradually add 400 g (14 oz) flour, mix well and add salt. The dough should be very sticky.
Cover bowl with a damp kitchen towel and let rise for at least one hour. After this time you should see small bubbles on the surface, and your dough should be doubled in size.
Now add the rest of the flour until you can form a big ball out of dough. Knead the dough for some more minutes and let rise for another hour on a warm and dry place. The dough should rise for the second time. Now use the vegan yeast dough as desired.