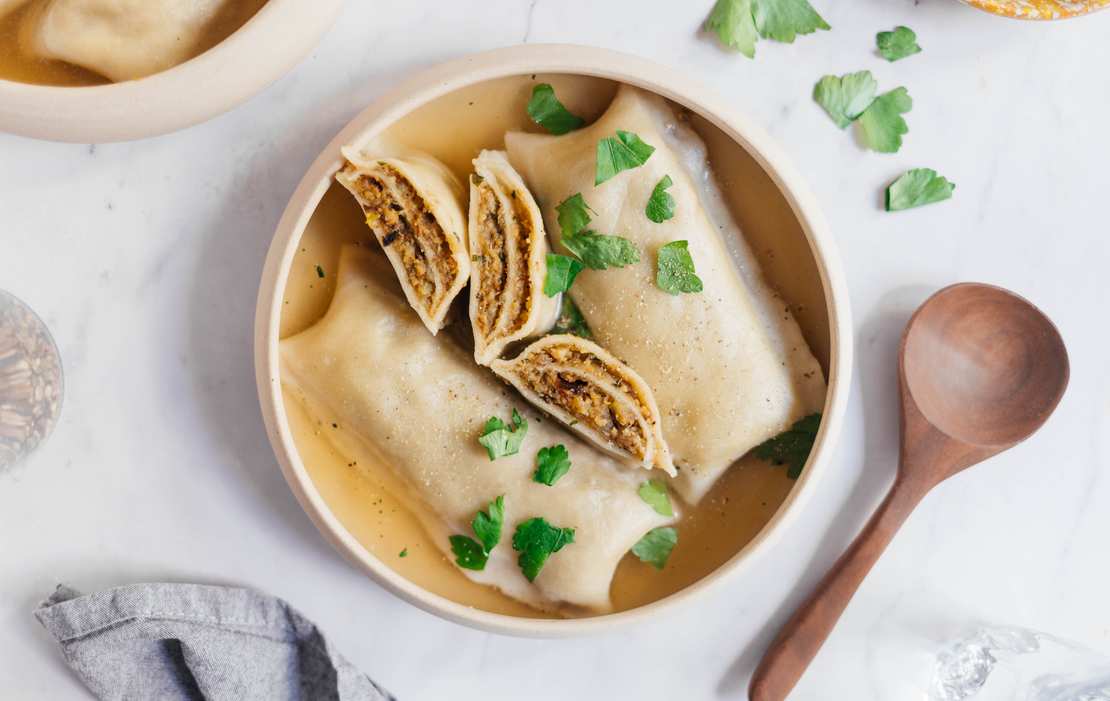 Vegan Maultaschen with Vegetable Filling (Swabian Pasta Pockets)
As a child, I loved Maultaschen (Swabian pasta pockets). Boiled in broth, uncooked on the hand, pan-fried with an egg on top, or served with potato salad, lamb's lettuce or beet salad. If you wrapped my family in Maultaschen dough, we would feel more at home than anywhere else. Since my family has Swabian roots, Maultaschen were an absolute favorite that we cooked over and over again at family reunions, on holidays or other occasions. But unfortunately, Maultaschen usually contain eggs and meat. So we cut out both and replaced it with potatoes, mushrooms and leeks – the result are wonderfully hearty and simple vegetable Maultaschen!
You don't need to be afraid of the preparation. It's similar to making Italian pasta. Our Maultaschen dough is a classic pasta dough made from durum wheat semolina and flour. Instead of durum wheat semolina, my grandma adds eggs, but we leave them out. Instead, we use water and oil to make a smooth dough and then roll it out nicely and thin. For the filling, we shred potatoes, leeks, onions and mushrooms in a food processor, which makes it easier to evenly spread the filling on the dough. Of course, you can vary the filling as you like. Do you still have spinach at home? Why not add it?
Before the Maultaschen are cooked in vegetable broth, we have to fold them. The Maultaschen of my grandma and mom were always very, very large and not neatly worked or particularly fine with regards to the technique. So don't be disappointed if your Maultaschen don't look quite as nice! It helps tremendously to watch a few YouTube videos beforehand to get a feel for the folding technique. But again, there are many different approaches: Some roll out the dough for each Maultasche individually, some lay out sheets, some make very small Maultaschen, and others make huge ones – however you fold them, they will taste quite wonderful!
If you don't like Maultaschen in broth, I suggest you drain the Maultaschen after cooking and then fry them in vegan butter. I like them much better when fried, especially with a plate of potato salad, lamb's lettuce and beet salad. Just like in the old days!
Vegan Maultaschen with Vegetable Filling (Swabian Pasta Pockets)
Ingredients
For the dough:
200 g (1.25 cups) durum wheat semolina
200 g (1.5 cups) wheat flour (type 405)
about 150 ml (0.66 cup) water
50 ml (0.25 cup) olive oil
1 tsp salt
For the filling:
300 g (0.66 lb) floury potatoes
2 onions
100 g (3.5 oz) leek
20 g (0.75 oz) parsley
150 g (0.5 lb) smoked tofu
0.5 wheat roll
100 g (3.5 oz) shiitake mushrooms (canned)
2 tbsp nutritional yeast
1 tsp nutmeg
1 tbsp vegetable broth powder
salt
pepper
Also:
Instructions
For the Maultaschen dough, knead durum wheat semolina, flour, water, olive oil and salt in a large bowl until a homogeneous dough forms. If the dough doesn't become smooth, add more water and oil. Let rest in the refrigerator for an hour.

Bring a pot of salted water to a boil. Peel the potatoes, cut them into small cubes, and boil them in the water for approx. 8–10 minutes until soft. Drain, let steam out, and mash with a potato masher.

In the meantime, peel onions and wash leeks and parsley. Coarsely chop the leeks, smoked tofu and half the roll. Heat vegetable oil in a pan and fry onions, leeks, smoked tofu and shiitake mushrooms.

Now put all the ingredients for the filling in a food processor: the cooked potatoes, onions, leeks, shiitake mushrooms, smoked tofu, wheat roll, parsley, nutritional yeast, nutmeg, vegetable broth powder, salt and pepper. Grind until you have a spreadable mixture. If it's missing some liquid, add some vegetable broth. Season to taste with salt and pepper.

Bring a large pot of vegetable broth to a boil. Remove the dough from the refrigerator and roll it out thinly into a large rectangle (30 x 50 cm / 12 inches x 20 inches) on a floured surface. Cut the rectangle in half horizontally to make two long sheets of dough.

Using the handle of a wooden spoon, press notches into the roll so that small Maultaschen form. Using a dough card or knife, separate the Maultaschen from each other. Press the ends of all Maultaschen together thoroughly with your thumb and forefinger.
Tip: Don't fold the Maultaschen more than three times. Otherwise, they will be too thick and burst open during cooking.
Add the Maultaschen one by one to the vegetable broth and cook on medium heat (the water should only boil slightly) for approximately 15 minutes. Serve with the broth afterward.
Tip: You can also drain the Maultaschen, fry them in a pan and serve them with salad, for example.