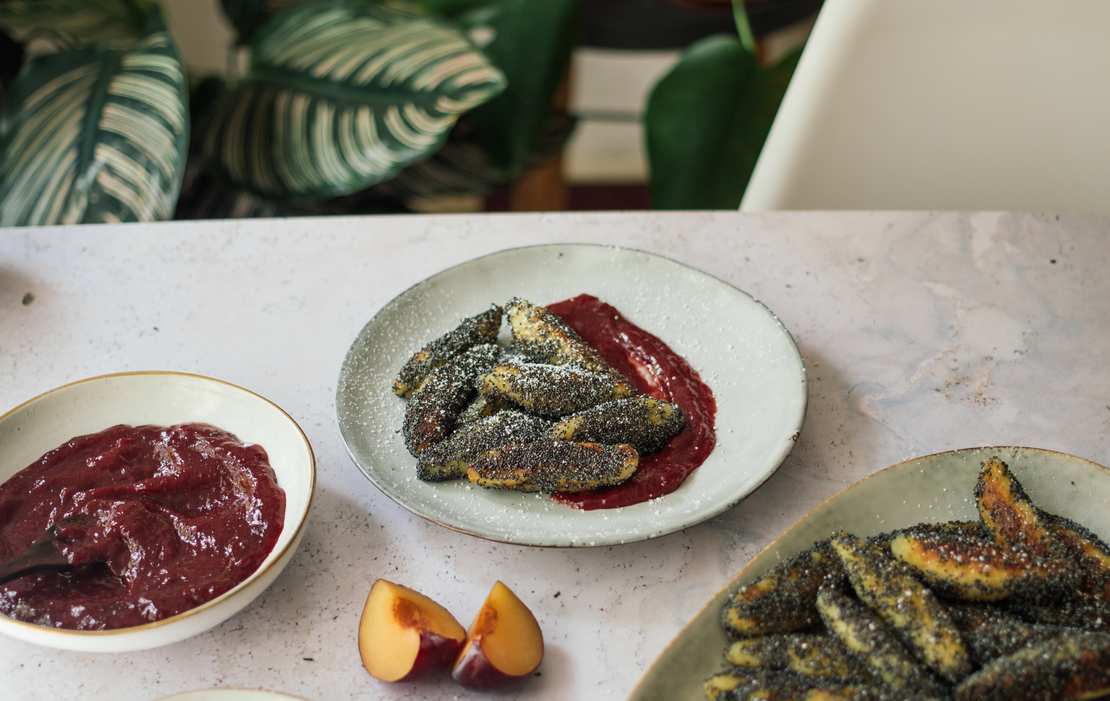 Vegan Poppyseed Potato Pasta with Plum Sauce
So far, I haven't had the best experiences with sweet pasta. But honestly, I have to admit that I started with a quite adventurous combination when I ate milk pasta (pasta cooked in milk) with chocolate sauce a few years ago. Verdict: Never. Again.
But now I'm back on track and will hopefully forget this painful memory thanks to this poppyseed potato pasta. They are a sweet variation of what we call "Schupfnudeln" (potato pasta), so it's a kind of pasta or dumpling made with mashed potatoes. A sweet potato dish? Yes, I admit that this doesn't sound that tempting, but believe me ¬– this dish is V-E-R-Y delicious! The indicated amount of the recipe is enough for 4 servings when you eat it as a dessert or enough for 2 servings as a main. They fill you up quite quickly, given that they mostly consist of carbohydrates in various forms.
I would recommend to use floury potatoes for this recipe and to trust your instinct and feeling when you prepare the dough. Don't add the whole amount of flour directly, but only incorporate it little by little in until the dough isn't sticky anymore. If plums shouldn't be in season right now or if you want to save a step of prep, just serve the sweet potato pasta with your favorite jam or any other fruit compote.
Vegan Poppyseed Potato Pasta with Plum Sauce
Ingredients
For the dough:
400 g (14 oz) floury potatoes
100 g (0.75 cup) flour
2 tbsp soy flour
1 tbsp starch
2 tbsp vegan butter (soft)
1 tbsp vanilla sugar
salt
For the poppy seed butter:
50 g (0.5 stick) vegan butter
50 g (2 oz) poppy seeds
1 tbsp vanilla sugar
For the plum sauce:
5 plums
100 ml (0.5 cup) water
3 tbsp sugar
1 tsp ground cinnamon
1 vanilla bean
For serving:
Instructions
Peel potatoes and chop if needed. Add to a pot, cover with water, and season with salt. Boil for approx. 20 minutes or until soft. Drain the potatoes and let them cool down.

While the potatoes boil, prepare the plum sauce. Wash and deseed plums, then cut into wedges. Add plums, water, and sugar to a small pot. Close with a lid and let the plums simmer for approx. 10 minutes, or until soft. Blend the plum mixture until smooth, then strain the sauce through a sieve to remove any remaining peel. Add the sauce back to the pot and season with cinnamon and the pulp of a vanilla pod. Keep the sauce warm over low heat until the potato pasta is done. In case the sauce should thicken too much, just add a bit more water.

As soon as the potatoes are cooled down, mash them directly in the pot until you can't see any bigger chunks anymore. Add half of the flour, soy flour, starch, soft vegan butter, vanilla sugar, and salt. Stir to combine until a rough dough forms. Transfer the dough to a floured surface, then incorporate the remaining flour little by little until the dough isn't sticky anymore. It's possible that your dough will need less or more flour than what's said in the recipe.

Halve or quarter the dough, then roll it into medium-thick strips. Cut each into smaller pieces and roll each piece into the typical potato pasta form with thinner ends. Repeat with remaining dough.

For the poppyseed butter, melt vegan butter in a saucepan. Add poppy seeds and fry for approx. 2-3 minutes. Add vanilla sugar, then transfer the poppyseed butter to a deep plate.

Bring a pot of water to a boil and already prepare a frying pan next to it. Boil the potato pasta in batches until they float on the surface – that's how you know that they are done. Remove the potato pasta from the water, drain shortly, then toss in poppyseed butter, and directly add the coated potato pasta to the frying pan. Fry until golden brown and slightly crispy. The poppyseed butter should already be enough fat for the potato pasta not to burn, but if needed, add a bit more vegan butter. Repeat this step until all of the potato pasta is boiled and pan-fried.

Dust poppy seed potato pasta with confectioner's sugar and serve with plum sauce.