Vegan Macaroni Salad with Almond Dressing
While we have clear favorites when it comes to potato salad (see here), we are open to new recipes when it comes to pasta salad. We enjoy pasta salads with a fresh vinaigrette, pea pesto, lemon tahini dressing, and, of course, pasta salads with a vegan yogurt mayo dressing. Luckily, the sauce for the macaroni salad you're about to see consists of exactly these components. Ha!
So, let's go through the recipe together:
The Pasta: For this recipe, we like to use macaroni, but you can also use other short pasta shapes like fusilli, shell pasta, penne or rigatoni. We officially approve all pasta varieties that can absorb a lot of dressing.
The Dressing: The combination of plant-based mayonnaise and almond butter makes the dressing extra creamy and gives it a rich, unique flavor without making the pasta salad heavy on the stomach. Lemon juice adds a nice freshness, and we season it with mustard, salt and pepper.
The Vegetables: Of course, we need something crunchy (and, of course, a little bit of color) in the salad! So, bring in some cucumber, bell pepper and a few peas. Fresh herbs add a certain spiciness, and, of course, they look great. If you don't like dill or chives, you can leave those out. You are also free to use other veggies like cherry tomatoes, spring onions or corn if you like.
That's all you need to know. Except that, this salad will change your life and might become your favorite.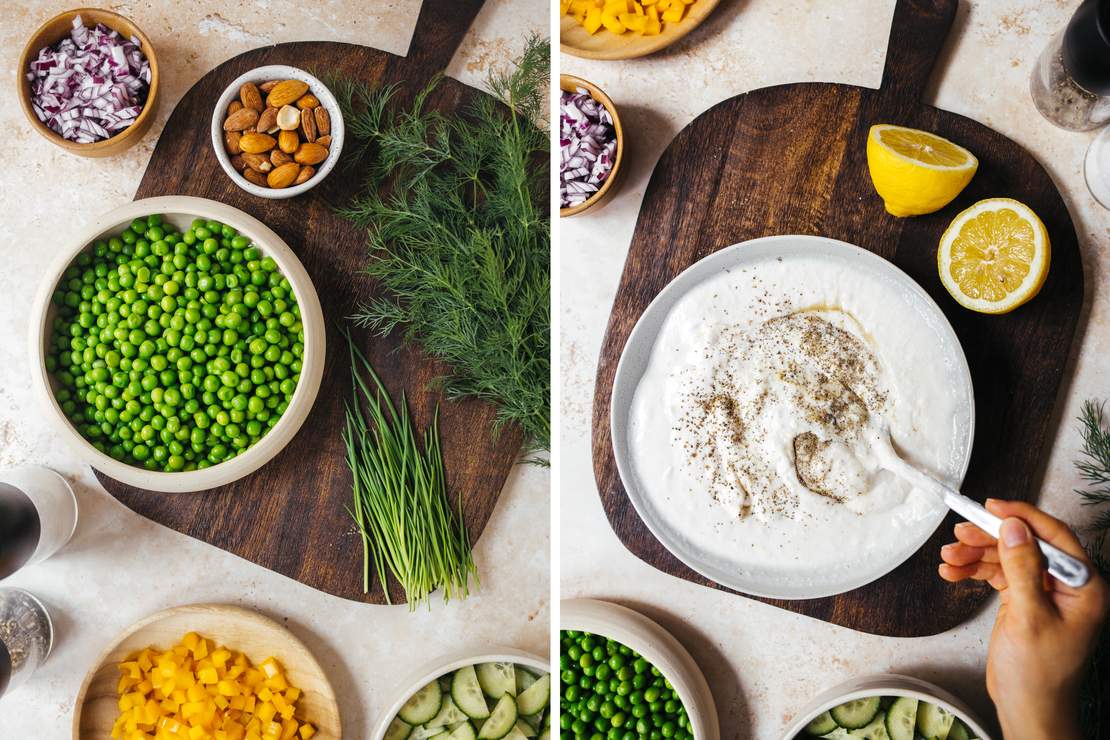 Vegan Macaroni Salad with Almond Dressing
Ingredients
For the Salad:
250 g (0.5 lb) macaroni
150 g (0.33 lb) frozen peas
0.5 cucumber
1 yellow bell pepper
1 red onion
10 g (0.33 oz) chives
10 g (0.33 oz) dill
100 g (0.25 lb) almonds
For the Dressing:
250 g (1 cup) plant-based natural yogurt
75 g (2.5 oz) plant-based mayonnaise
4 tbsp light almond butter
1 lemon (juice)
1 tbsp mustard
salt
pepper
Instructions
Bring some salted water to a boil in a large pot and cook the macaroni al dente according to the package instructions. Add the frozen peas to the pot about 3 minutes before the specified cooking time ends. Then drain both together.
While the pasta is cooking, finely dice the cucumber, bell pepper and red onion. Finely chop the chives and dill. Toast the almonds in a pan without oil, then roughly chop them.
Add the diced veggies, cooked pasta and peas to a large bowl and mix well.
Combine plant-based yogurt, vegan mayonnaise, almond butter, lemon juice and mustard in a separate bowl. Season to taste with salt and pepper.
Add the dressing, chopped chives, dill and toasted almonds to the salad and mix well. Let the salad sit for a while and add some more salt and pepper if needed just before serving.