During our theme weeks, we often present our favorite recipes, but we also love to give you some inspiration with dishes you've probably haven't eaten so far. Therefor, we get ourselves inspired by the great world of the internet. In preparation of this pasta week we came across a picture that didn't look like pasta at first sight. But then we read 'Fried Pasta Cake'. And since our middle name is chip fat, we HAD to try this one out. Unfortunately, we couldn't find a real recipe for it, but only a short description of the dish. But I think we managed pretty well to turn this one into a vegan wonderland recipe, that you'll dream about later at night. I ate our first fried pasta cake in about 20 seconds and it's now in my Top10 list "Best things I've ever prepared". Meaning: DO TRY THIS AT HOME!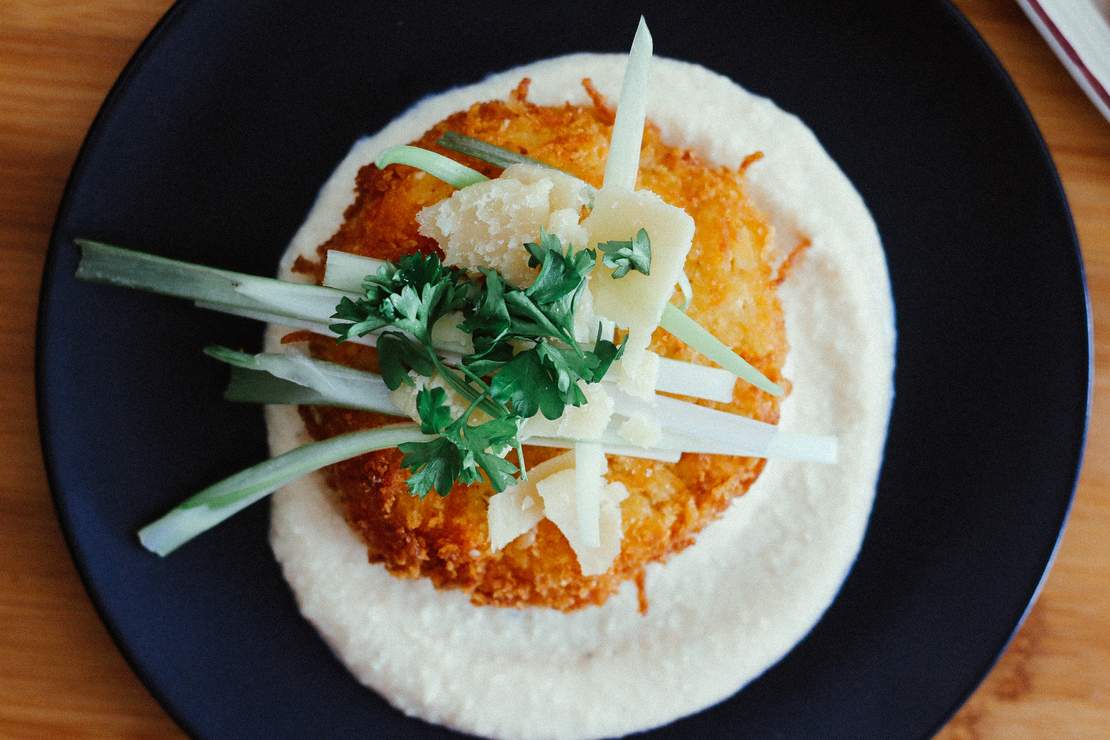 Vegan Fried Capellini
Ingredients
500 g (18 oz) capellini pasta
about 500 ml (2 cups) oil for frying
panko or breadcrumps
egg-replacer for 3 eggs (we used NoEgg)
about 200 g (7 oz) cashew ricotta
1 package vegan mozzarella
1 handful of vegan shredded cheddar cheese
FOR SAUCE ALFREDO
250 g (9 oz) cashews (soaked in warm water for at least 30 minutes)
400 g (14 oz) silken tofu
4 tbsp vegan butter
3 tbsp flour
1 lemon
3 - 4 tbsp nutritional yeast
salt
pepper
paprika
nutmeg
FOR TOPPING
Instructions
Let the games begin! Start by cooking capellini pasta in slightly salted water according to instructions. Make sure to drain the water a moment BEFORE they are al dente, because otherwise your fried pasta cake might fall apart afterwards.
Let pasta cool down a bit until they are lukewarm.
Take a large bowl and put in pasta. Cut them two or three times, so they are a bit shorter than before.
Mix egg replacement and add to the pasta, as well as cashew ricotta, vegan mozzarella and vegan cheddar cheese and mix everything well. The egg replacement helps to make the whole mass sticky, so if you have the feeling, that the pasta and cheeses do not combine a bit, add some more egg replacement.
As soon as the pasta-cheese-mix sticks a little, you can form small patties out of them. You can water your hands a bit, which will make it easier. The patties shouldn't turn out too thick or too, about as thick as your thump would be great.
In a large bowl or on a plate, spread panko (or use breadcrumbs alternatively) and start rolling your pasta cakes in it until they are covered all over.
Heat oil in a large pan. Make sure that we need quite some oil. It should stand in the pan about 1 - 2 cm so we can fry our pasta cake all around. Add pasta patties to the pan (about 2 patties will fit in the pan) and let them fry golden brown and crispy from both sides. As soon as you take them out of the pan, drip off oil by putting the cakes on a paper towel.
At the end, finish with vegan Parmesan and parsley and serve with your favorite pasta sauce - we used vegan Sauce Alfredo, but of course you can also prepate vegane bolognese or Sauce Arrabiata or whatever you like.
Vegan Sauce Alfredo
Purée soaked cashews and silken tofu.
Take out a large pot and melt vegan butter in it, until you can see small bubbles. As soon as this happens, stir in flour carefully and keep stirring your roux to avoid any clumps.
Add silken-tofu-cashew-mix, but remember to keep stirring.
Season generous, because at this point, your sauce will taste neutral. Add the juice of a lemon, about 3 - 4 tbsp nutritional yeast, salt, pepper, paprika and nutmeg.