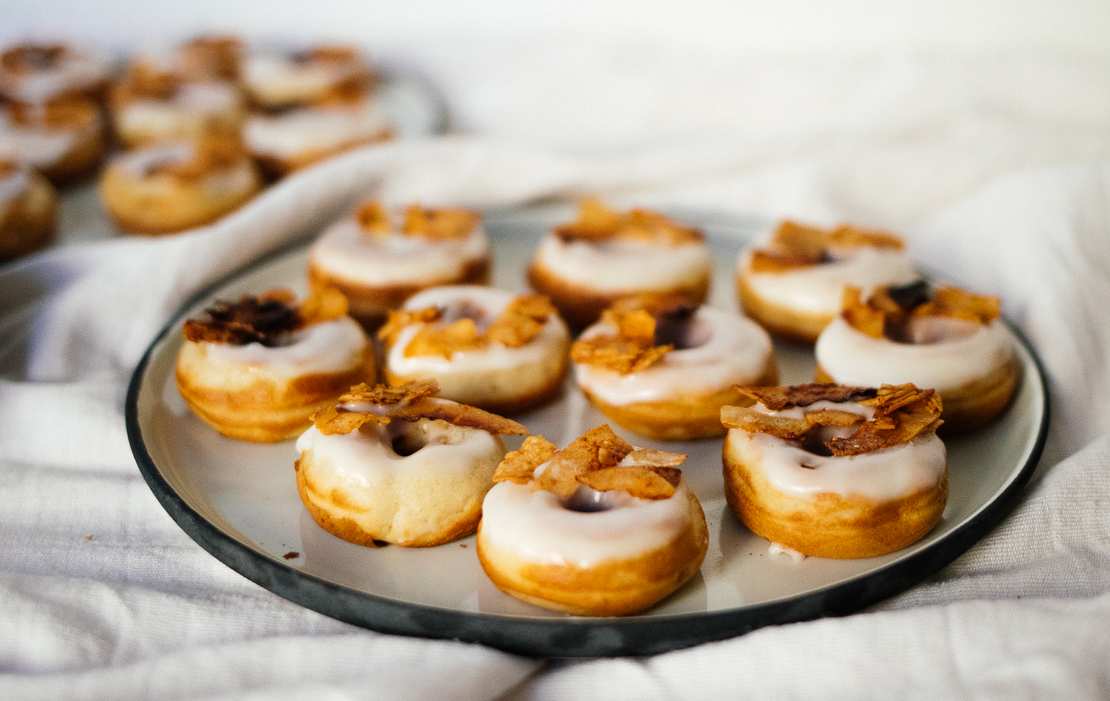 Sweet and hearty at the same time? Oh yes! We are huge fans of sweet & hearty dishes. We could never eat only sweet things. And we could never eat only hearty things. By the way: Julia could never end her food feast without eating something hearty. So these Vegan Bacon Donuts are made for us cause they definitely put the sweet-hearty-thing in a nutshell. They are the perfect party food: easy to make, quite filling and a bit confusing. Who would expect the taste of bacon on a basic donut? But in the end, they will all love them, yes it's true! We guess you already know our recipe for vegan coconut bacon, it's too easy. What a smoked spectacle!
Vegan Coconut Bacon
Ingredients
225g (8 oz) coconut bacon
2 tbsp soy sauce
2 tbsp Liquid Smoke
2 tbsp agave syrup
2 tbsp smoked paprika
Instructions
Mix soy sauce, liquid smoke, agave syrup and paprika in a small bowl.
Add your coconut chips and combine well.
On a baking tray bake coconut chips for 15 minutes at 160°C / 320°F.
Toss the mixture on the sheet every 5 minutes.
Vegan Bacon Donuts
Ingredients
DONUTS
200 g (1.5 cup) flour
125 ml (0.5 cup) maple syrup
2 tbsp baking powder
1 pinch of salt
180 ml (0.75 cup) plant-based milk
1 tsp apple vinegar
1 tsp vanilla essence
50 g (2 tbsp) apple sauce
50 g (2 tbsp) coconut oil
ICING
250 g (2 cups) powdered sugar
1 tbsp maple syrup
TOPPING
0.5 serving of our vegan coconut bacon (recipe on our blog)
Instructions
Prepare 1/2 portion of our coconut bacon. The recipe is on our blog.
For the donuts, mix the milk and apple vinegar in a small bowl. Set aside for 10 minutes.
In a big bowl, mix all the dry ingredients.
Now gradually add the wet ingredients and mix again.
Heat your donut maker and grease with coconut oil.
Transfer your dough in a plastic or freezer bag and cut off a corner. Now you can easily pipe the batter into each donut cup. Let your donuts turn golden brown (will take 3-5 minutes).
Mix powdered sugar and maple syrup for your icing. Add the maple syrup gradually, until you get a smooth mixture.
To glaze, simply hold the donut and dip into the glaze. Immediately sprinkle with coconut bacon.
Serve warm or at least the same day.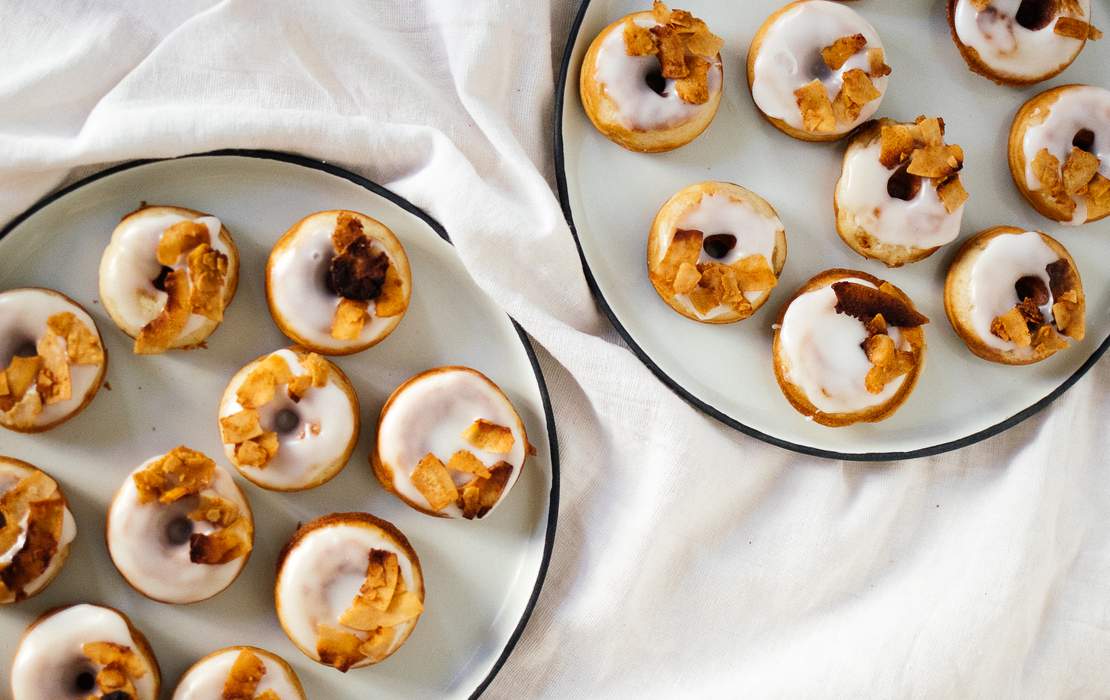 *This is an affiliate link.