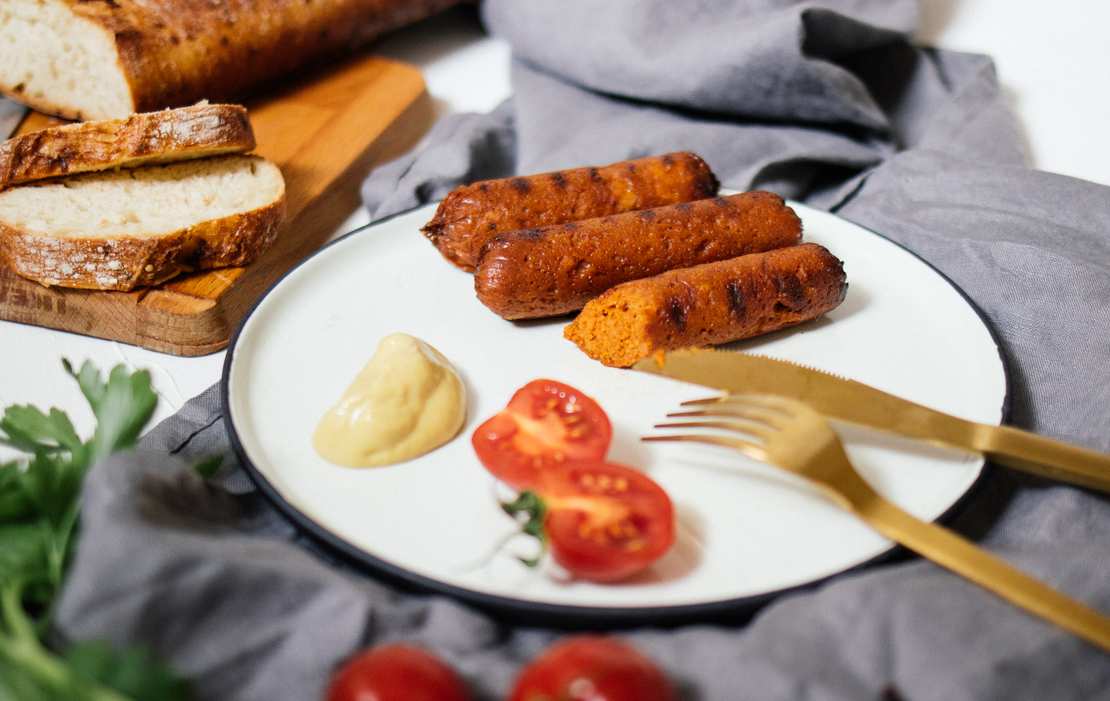 Vegan & soy-free BBQ sausages
Meanwhile, there are a lot of vegan sausages in the supermarket. That's comfortable cause we could have a BBQ almost every day without any preparations. But most of the sausages are made of soybeans, a lot of people do not tolerate very well or even don't like. We created a super easy recipe for this case made of seitan. You can vary the seasonings and put them on your BBQ or even fry them in a pan afterward.
Vegan & soy-free BBQ sausages
25 sausages
180 minutes (+ grilling time)
Ingredients
500 g (17.6 oz) wheat gluten
2 tsp garlic powder
3 tbsp onion powder
4 tsp paprika powder
1 tsp white or brown sugar
3 tbsp nutritional yeast
1 tsp salt
1/2 tsp pepper
4 tbsp mustard
8 tbsp plant-based oil
optional: 6 tbsp soy sauce
8 tbsp tomato paste
500 ml (2 cups) water (+ more if you didn't used soy sauce)
aluminium foil
Instructions
Mix the dry ingredients in a bowl: wheat gluten, garlic powder, onion powder, paprika powder, sugar, nutritional yeast, salt, and pepper.
In a small bowl mix the wet ingredients: mustard, oil, soy sauce, tomato paste, and water.
Now add the wet ingredients to the dry ingredients. Knead all of the ingredients into a dough and use your hands to shape it into sausages.
Wrap sausages in aluminum foil like bonbons.
Preheat oven and bake sausages for 40 minutes at 180°C / 350°F.
The sausages are now ready for a BBQ or frying pan.