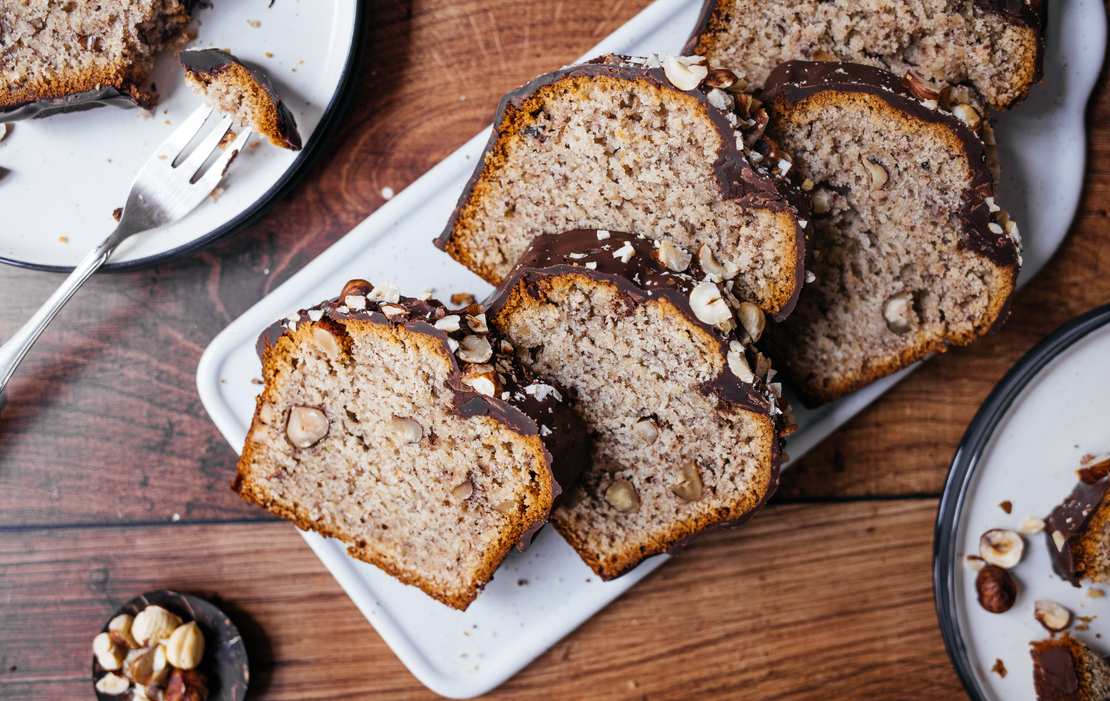 Super moist, vegan Hazelnut Cake
When I was a child, they played a significant role and I loved them more than anything: ready-made cakes from the supermarket! That does not mean that we did not bake at home and there was only ready-made cake every day – rather the opposite. There was rarely ready-made cake in my childhood, but it did not survive one day if we had some at home. Maybe you still know them: The blue packages that covered an unbelievably (!) juicy cake, which was coated with chocolate.
But whether it was a marble cake, a hazelnut cake or a lemon cake, there had to be some secret ingredient in them – because it seemed impossible for me to stick with just one piece. But since we at Zucker&Jagdwurst are big fans of classic sponge cakes anyway and don't need pompous cream cakes at coffee and cake time by any means, I set myself the goal of making my favorite variety from back then, the hazelnut cake, as juicy and incredibly delicious as possible, just as I remember it from my childhood.
The preparation is (as with most sponge cakes) really simple and quickly done. We add ground and whole hazelnuts into the dough and use the absolute basic wheat flour type 405, but you can also replace it with spelt flour type 603. To bind the dough nicely, we use some chickpea flour, but you can also replace it with soy flour, a "chia seed egg" or a "flax seed egg". And the rest is a breeze: Stir all the ingredients together, bake, let cool, cover with chocolate – and you won't be able to stop pushing another piece onto your plate, whoops!
Super Moist, Vegan Hazelnut Cake
1 cake (26 x 11 cm / 10 x 4 inch)
30 minutes (+ 60 minutes baking time)
Ingredients
For the hazelnut cake:
50 g (1.75 oz) hazelnuts
250 g (2 cups) wheat flour (type 405)
150 g (5.3 oz) ground hazelnuts
150 g (0.75 cups) white sugar
2 tbsp chickpea flour
8 g (0.25 oz) baking powder
8 g (0.25 oz) vanilla sugar
1 pinch of salt
100 ml (0.5 cup) vegetable oil
2 tbsp applesauce
250 ml (1 cup) plant-based milk
Also:
200 g (7 oz) vegan dark chocolate
100 g (3.5 oz) hazelnuts (for decorating)
vegan butter for greasing
Instructions
Roast the hazelnuts (for the dough and for the decoration) in a fat-free pan and then chop them roughly.

In a large bowl, mix wheat flour, chopped hazelnuts, ground hazelnuts, sugar, chickpea flour, baking powder, vanilla sugar and salt. Add vegetable oil, applesauce and plant-based milk and stir in just briefly.

Grease a bread baking pan (26 x 11 cm / 10 x 4 inch) with vegan butter and preheat the oven to 180 °C / 350 °F (convection heat). Pour the batter into the pan. Bake the cake in the preheated oven for about 50–60 minutes. Test with a chopstick if the cake is baked through and cover with foil if it gets too dark.

After baking, let the cake cool completely. Melt the chocolate and pour over the cake. Decorate with the remaining chopped hazelnuts.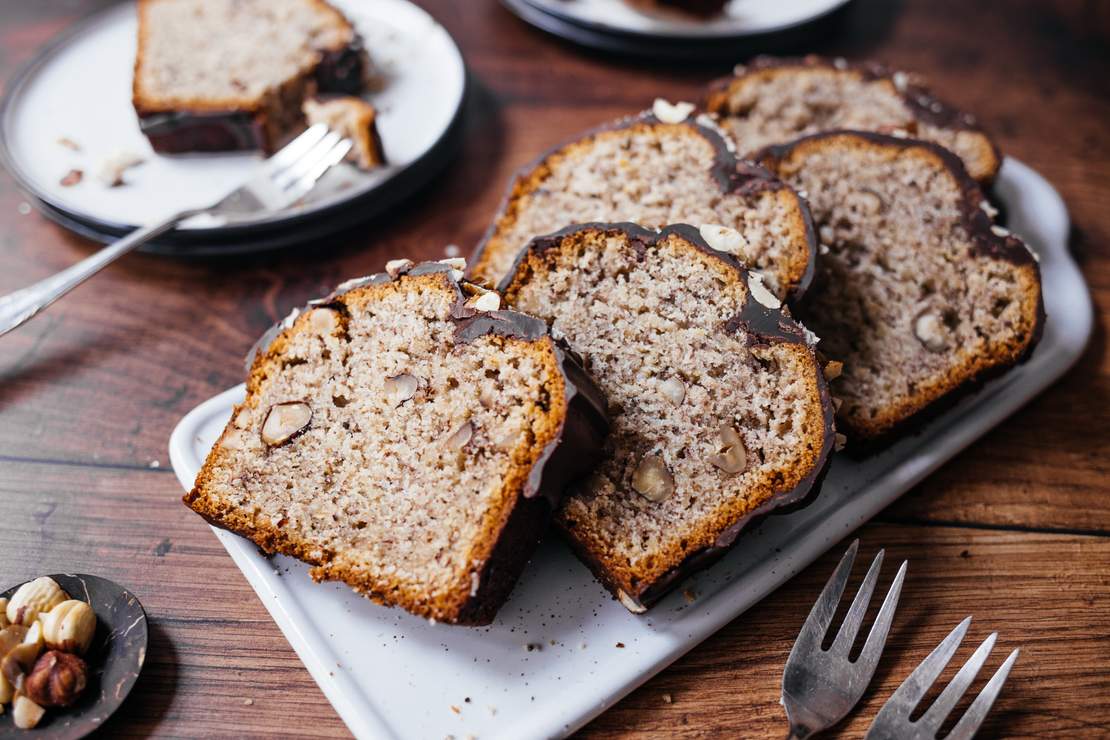 More Vegan Cakes & Cookies